Eel
It was the cold dead of winter and I was home for a visit to PEI from my new home in Amsterdam. With only a few days before heading back, I had made plans to cook with my friend, John Bil.
John suggested that we thaw some eel he froze a few months earlier. I had eaten plenty of eel during my travels, often in Asian restaurants. However, neither he nor I had cooked eel so this was to be a memorable tasting experience. It was in the early part of the year 2000, we were in our early 30s, and we had both been working in the restaurant world for at least 10 years. Looking back, I can't help but think of how very upbeat we were—and oh, so young.
Since we had no hands-on experience cooking eel, we looked for inspiration in the traditions of European cuisines that we both enjoyed researching, visualizing, and tasting whenever possible. For a couple of young, developing gastronomes, this was our escape to the imaginary and legendary world of traditional cuisine.
John deferred to my choice (a rare occasion) of an elegant, yet rustic, country dish called 'Anguille au vert.' Translating in English to 'Eel in green herb sauce', it is a simple, savoury, and truly inexpensive meal—with a lift from hot cream and herbs at the end.
A list of dinner guests was then hastily drawn up and much wine and beer was purchased. We checked our ingredients and set to work in the kitchen.
Cooking the immortal eel would mean anxiously and excitedly stepping into unknown, unproven territory; a great rush for cooks with experience, but not without a healthy dose of humility. For two kitchen personalities with sometimes parallel and sometimes competing visions, the eel was a worthy opponent.
I don't remember all of the guests who celebrated our eel repast that night, but I do remember thinking that it was a successful effort… and I can say with certainty that we ended the evening content and full of hope for future adventures at the communal table.
Efforts in the kitchen are almost always a retelling of a small piece of personal history. Now, nearly 20 years later, I feel like cooking the dish again—but this time as a way of remembering John and the daring nature that allowed him to embark on new adventures, and often.
Chef Robert Pendergast (with assistance from Ann Thurlow and Molly Pendergast)
Photos by Laura Weatherbie
and Cheryl Young
Anguille au vert
(Eel in Green Herbs Sauce)
Ingredients
1-2 fresh 2-lb eel (or frozen/thawed)
6-8 Tbsp olive oil (or other vegetable oil)
4 Tbsp salted butter
2 large onions, diced
6-8 Cremini mushrooms (or button) diced finely
1 bunch green onions, finely slice white ends and reserve the greens for sauce
1 litre of stock (chicken, vegetable, or fish)
150 ml apple cider or white wine
Salt
Pepper
Root Vegetables:
2 large sweet potatoes, peeled & diced
4 medium parsnips, peeled & diced
4 Tbsp olive oil
Cream-Herb Purée: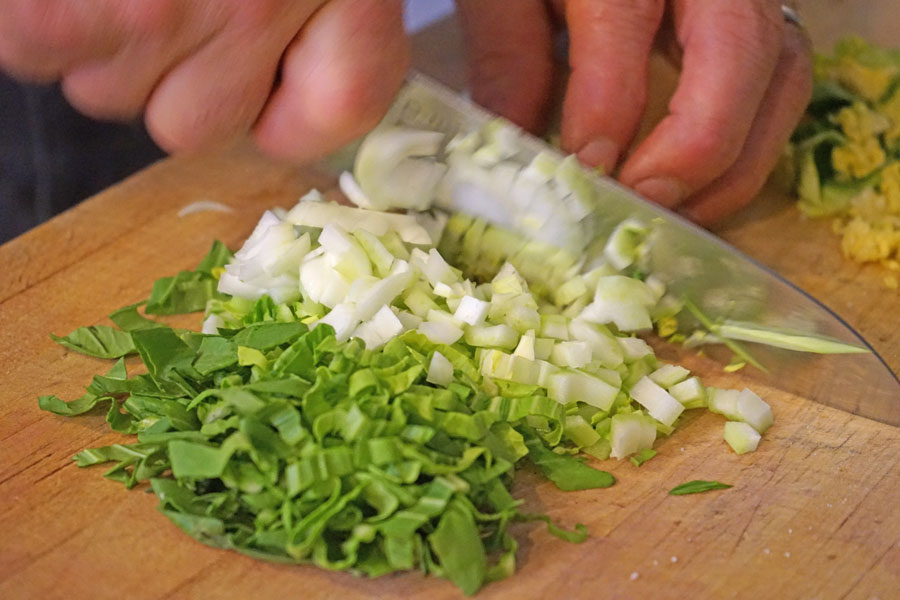 1 litre 35% m.f. cream
1/2 tsp of finely minced rosemary needles
1 Bok choy and/or 1 stalk Brussels sprouts, finely chopped
250-300 grams green cabbage or Savoy cabbage, sliced finely
1 large leek, white portion, sliced finely
½ bunch flat parsley, chopped
1 bunch cilantro, chopped
2 Tbsp salted butter
Juice from ½ lemon
Preparation
Preheat oven to 330°F.
Place diced root vegetables on a sheet pan or in a casserole dish. Add four Tbsp of olive oil and a light pinch of salt to them, then add about 100 ml of water and place in the oven.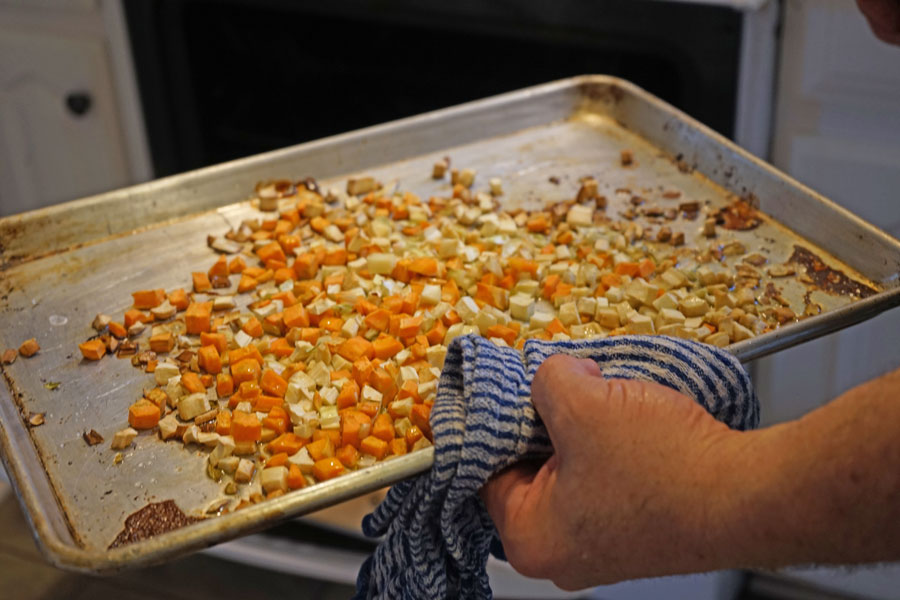 Cook until just roasted but not necessarily browned. When done, set aside to add to the finished eel dish.
While vegetables are roasting, warm a large wide pot on medium heat on stovetop.
Cut the eel into 3-4 cm long pieces (cutting across the body, keeping skin and bones intact). Sprinkle with salt and freshly cracked pepper.
When the pot is hot enough to sizzle butter, add 5-6 tablespoons of olive (or vegetable) oil and 2 tablespoons of butter. Carefully add the eel in a single layer—you'll likely need to do two batches to accommodate all of the eel.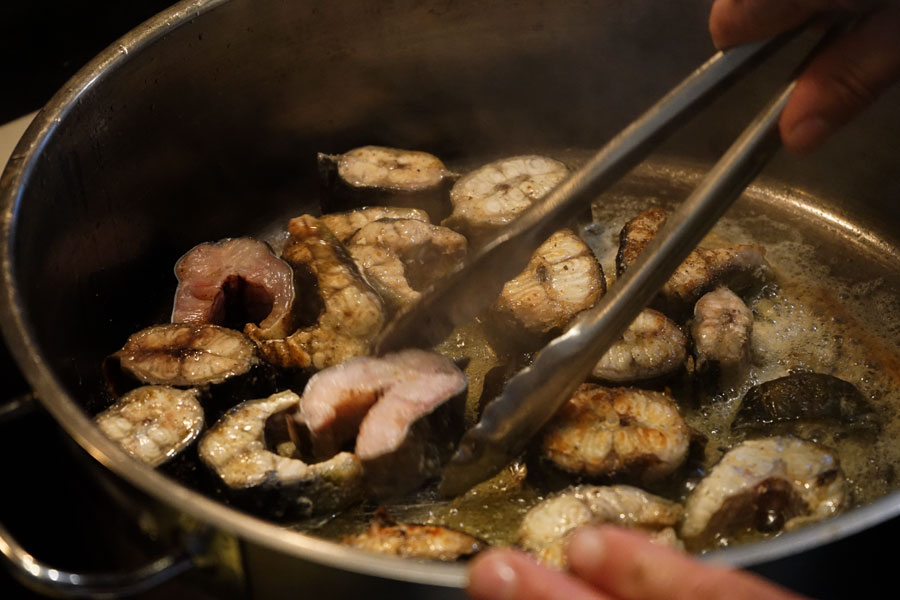 Cook the eel until it has a golden brown colour and turn the pieces to brown the other side. Put the browned eel aside, and repeat this process with the remaining eel pieces. (Might be a good time to check root vegetables.)
With all of the eel set aside, add another 2-3 tablespoons of olive oil to the pot. Add the onion, mushrooms, and white ends of the green onion. Season with a good pinch of salt. Allow to cook slowly, softening the ingredients, then add the cider/wine and the stock.
Carefully return the eel to the pot, bring to a simmer, and then cover the pot and simmer for 20-25 minutes.
Using a second pot, bring the cream to just below a full boil. Add the bok choy and/or Brussels sprouts, minced rosemary, cabbage, and leek. Bring back to boiling and add parsley and cilantro. Remove from heat.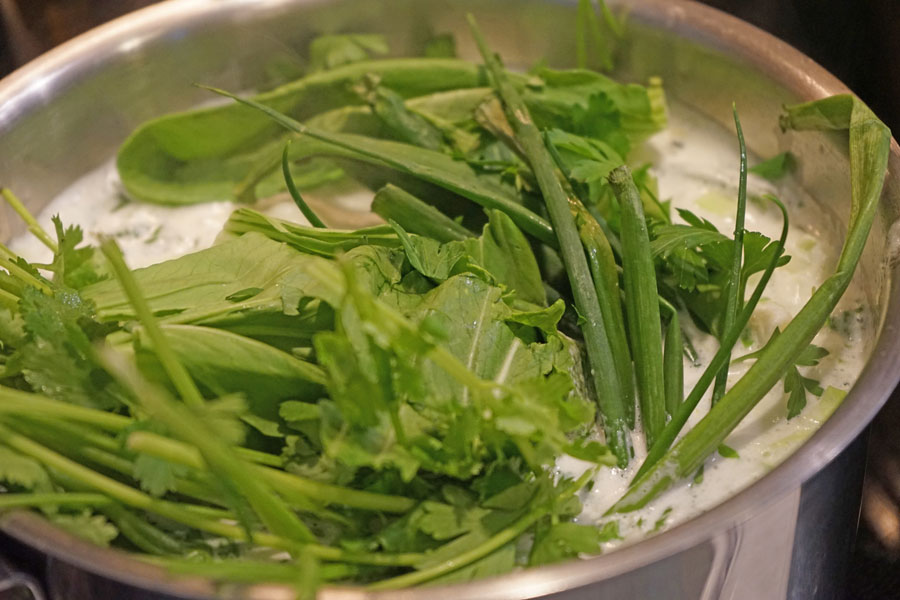 Carefully purée in small batches until smooth and green! Add a couple tablespoons of butter to the blending sauce.
Test the eel for readiness. When it is cooked properly, the flesh should feel firm, yet begin to separate from the central spine of the eel.
To finish the dish, simply add the root vegetables to the eel pot, then add the hot cream-herb purée. Carefully stir in the lemon juice.
Taste one final time, adjust seasoning with pepper and salt.
This can be served with rice, noodles, or potato mash—or it can be served simply on its own!
Serves 12-14