Cooking with Ale
This month marks the first Craft Beer Week in Prince Edward Island with all of our currently opened breweries participating. So we thought it would be a great excuse to offer up some recipes that use beer.
Cooking with beer is not something a lot of home cooks are used to although it is becoming more common. As well, many of our local breweries often infuse their food offerings with one or more of their brews.
Well, we can do it at home and just like when cooking with wine it is encouraged—no, it is required—that the chef generously sample the ingredients.
We have a complete meal to offer you. It's very simple really, just bread, soup, and salad. Pair each with the beer used in the recipes and you will be happy with the results. Even if you aren't you will, by that time, be three beers in and everything will be wonderful!
Let's start with BREAD.
Recipes by Rod Weatherbie
Photos by Cheryl Young and Laura Weatherbie
Sydney Street Stout Soda Bread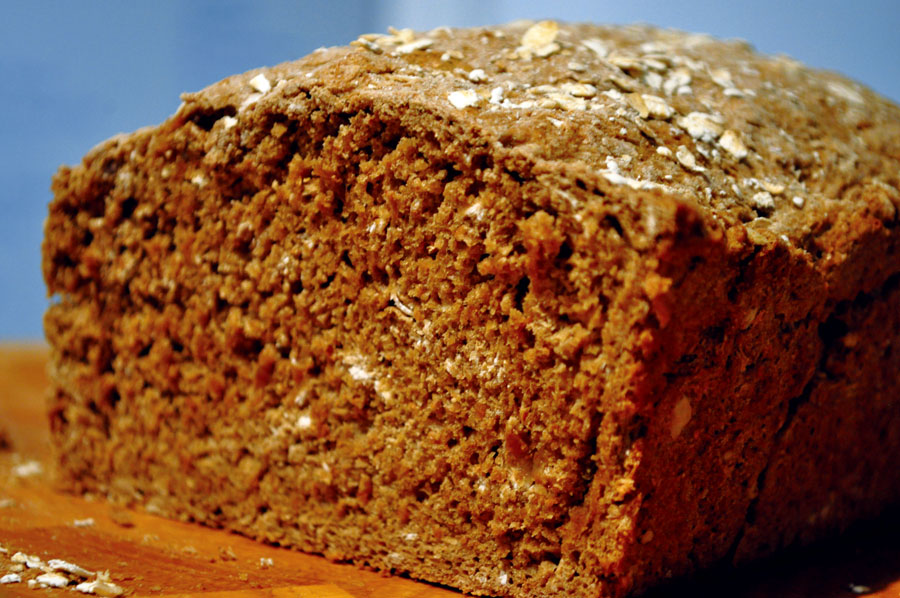 Ingredients
3 cups white flour (or 1 ½ cups bread flour and 1 ½ cups whole wheat flour)
4 teaspoons baking powder
½ cup oats (plus a little more for topping)
¼ cup brown sugar
½ teaspoon kosher salt
12 oz Gahan Sydney Street Stout
Butter for the bread pan and for the finished bread
Preparation
Preheat oven to 350°F. Generously coat a loaf pan with butter.
In a mixing bowl, combine the first five ingredients.
Slowly add the beer and mix until just combined (most beers are 16 ounces so be sure to drink the extra four ounces).
Knead the dough a few times, and lightly form into a loaf. Put the loaf into the buttered pan. Sprinkle extra oats on top.
Bake for 40-50 minutes or until a knife or toothpick inserted comes out clean (timing is not written in stone as everyone's ovens are a little different and heat inconsistently. Know your oven!)
Remove from heat and allow pan to cool for 15 minutes, then remove to a cooling rack.
I'm not going to tell you to let it cool completely because who does that? Give it a few minutes and dig in.
Use lots of butter and, as this loaf won't age well, finish the whole thing with friends in one sitting.
Cheddar and Brown Ale Soup
Ingredients
Butter (lots of it, the better part of half a cup actually. This soup is rich so don't scrimp on the front end!)
2 stalks celery cleaned and diced (you can keep the leafy part on and use it as well if it looks fresh.)
1 small yellow onion peeled and diced
1 carrot peeled and diced
1 or 2 garlic cloves peeled, smashed, and minced
Thyme (just a little)
(optional) 1 jalapeño seeded, ribbed, small dice
(optional) A few rashers of thick sliced country or farmers' market bacon (do not use any other kind! The thin sliced cheap stuff won't help your soup or soul. If you don't have the good stuff don't sub in the other stuff).
¼ cup flour
1 ½ – 2 cups vegetable stock (you make your own right? If not, "no salt added" store-bought will work just as well.)
1 cup heavy cream (35%, you can go a little lighter if you like but don't try to substitute milk for cream.)
¾ cup (6 oz) Iron Bridge Brown Ale from PEIBC
2 cups cheddar cheese, shredded (I say go for it and use 1 cup Avonlea clothbound and 1 cup Cow's Applewood Smoked for that outdoorsy feel.)
Salt and pepper to taste and maybe a dash of Maggi or Worcestershire (go easy on the added salt. The cheese and bacon have plenty and the dashes at the end add a lot, so taste as you go.)
Preparation
This is pretty easy. Heat up a heavy pot over medium heat.
Add the butter and once melted, add the celery, onions, carrot, garlic, and thyme.
If you are using them, now is the time to add in the jalapeño and bacon. Or you can lightly fry the bacon on the side and add it just before the cream.
Once the carrot, celery, and onion have softened a bit reduce the heat a titch and sprinkle the flour over top and stir to incorporate completely.
Add the cream first and let it thicken a bit, then add the stock and beer.
Add the cheese, stir, and let it all simmer for a bit.
Taste it and add pepper, salt (I can't imagine), and then Maggi or Worcestershire.
Ta da!
Goat Cheese and Walnut Salad with Raspberry Sour Ale Dressing
Ingredients
For the dressing:
Raspberries, a handful (about ½ cup) macerated with some white sugar
¾ cup PEIBC Raspberry Sour Ale (as always, drink the remaining beer or save it for dessert!)
¼ cup balsamic vinegar (this may need adjusting up or down as you taste the dressing. This is a sweet dressing.)
¹/3 cup olive oil
1 Tbsp grainy dijon mustard
Honey to taste
For the salad:
Arugula
Walnuts toasted and chopped (I toasted mine in the pan that I had rendered bacon in. You should do the same if possible.)
Goat cheese crumbled
Preparation
Place dressing ingredients in a glass jar with a lid and shake it up.
Assemble your salad ingredients.
Drizzle dressing to taste. Toss it all together. That's about it.
Oh right! Dessert!
Grab some parfait glasses or similar glassware. Place a scoop or two of vanilla ice cream in each glass. Top with the remaining cans of Raspberry Sour ale. Beer floats!
A very big thank you to our beer sponsors this month, The Prince Edward Island Brewing Co. and The Gahan House.