You've probably had it before. It might even be in your fridge right now: those gorgeous stripes of pink and white, and scrumptious flavour just waiting to be served up. I'm talking about pork belly."This cheaper cut is about way more than just bacon," according to Chris van Ouwerkerk, owner of Butcher & Butcher in Charlottetown.
Pork belly is most commonly found in Canada in its smoked and sliced form as bacon, but Chris encourages people try it in its unprocessed form. "It has such a deep flavour and soft texture because it's an underworked muscle and has great fat layering."
It's precisely because of these layers of fat that pork belly can handle a whole lot of punch when it comes to flavouring. From tart juicy notes of acidity to aromatic earthiness, pork belly is a hugely versatile and affordable cut that deserves a place in any omnivore's repertoire.
This month I'm diving into flavours that are both familiar and a bit far flung. One of my favourites from some time spent living in the UK is roast pork with crackling and applesauce. I developed a fun and informal update on those classic flavours with my cider-braised pork belly sandwiches – perfect for lunch or a casual dinner.
I've recently fallen head-over-heels for Asian flavours paired with pork. The fiery chilli and sharpness of vinegar alongside the richness of aromatic sesame and the natural sweetness of the pork makes for a truly sublime combination that should not be missed.
My sesame pork belly steamed buns might look intimidating, but so much of the time involved is slow roasting or proving the dough, so any lazy day will work. Do read the entire recipe in advance though, as the timings of the components are important to getting the nicest result. I don't pretend that this is the authentic recipe, but it's undoubtedly delicious.
Pork belly is indulgent and proves that it pays to try some old favourites in new ways. Also, make friends with your butcher. They have a wealth of knowledge and great advice on preparing any cut of meat under the sun. So next time you pay them a visit, save your bacon and try some pork belly!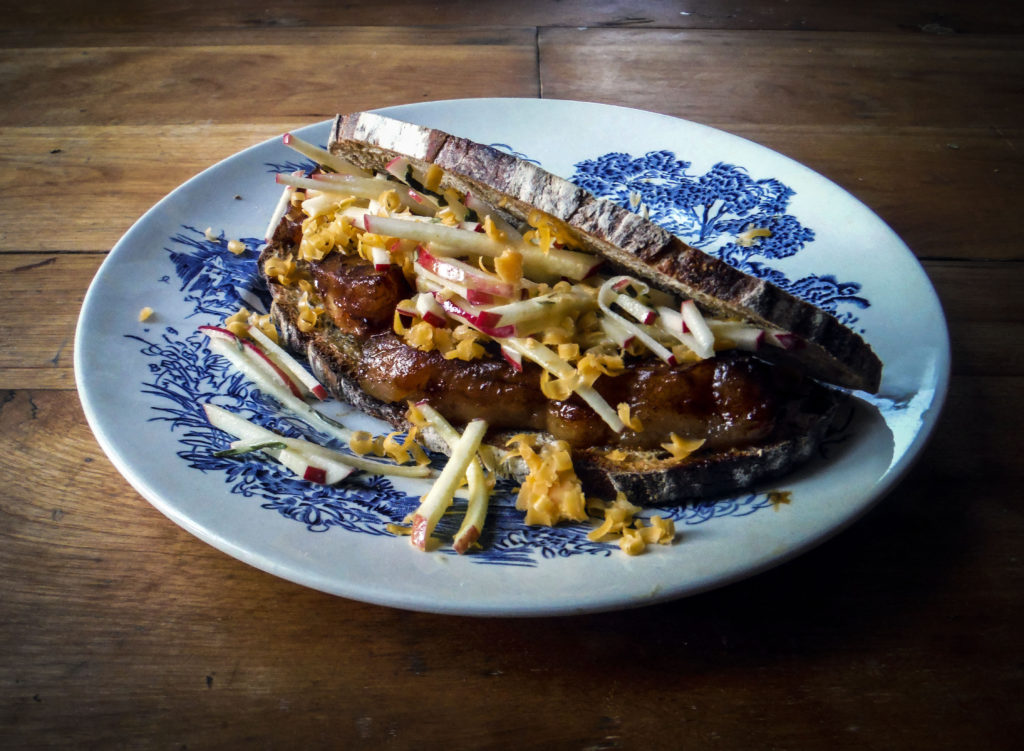 Cider Braised Pork Belly Sandwiches
Serves 4 / 3.5 hrs
1 1⁄4 – 1 1⁄2 lbs pork belly (cut into 1″ slices)
1 bottle/ 500 ml hard cider (or soft if preferred)
1 tbsp + 1 tsp Dijon mustard
2 sprigs of thyme
1 tsp salt
1⁄2 tsp ground cinnamon, or 1 whole stick of cinnamon
3 – 4 apples (Jersey Mac or Granny Smith
are great, but whatever is on hand is fine)
2 tbsp apple cider vinegar
1 tsp tarragon
8 slices rye bread (True Loaf's Normandy Rye
is superb)
Optional: grated cheddar cheese
Preheat the oven to 400 degrees Celsius
Pour the cider in a Dutch oven or oven safe roasting dish with a fitted lid and mix in 1 tbsp of the mustard, cinnamon, thyme, and salt. Lay the pork belly slices in the cider mixture and coat both sides.
Braise in the oven with the lid on for one hour. Reduce to 200 degrees Celsius and continue braising for a further 1 hour and 40 minutes.
When finished, remove from oven and rest until slightly cooled, about 20 minutes.
While the pork is finishing up in the oven or cooling, prepare the slaw by slicing the apples into matchsticks and tossing in the dressing of apple cider vinegar, 1 tsp Dijon mustard and tarragon.
Toast the rye and assemble the sandwich with the pork, topped with the slaw and some grated cheddar if you like!
Notes: the Normandy Rye from True Loaf at the Charlottetown Farmer's Market is my go-to bread for these sandwiches. Also, if you want to transform this informal meal into something impressive for dinner, cut the pork belly into 3″ chunks before braising and serve with seasonal vegetables, like cabbage and celeriac.
Recipe created by Paige Matthie
Sesame Pork Belly Steamed Buns
Makes 20 buns / 7hrs
Note: You can spread this recipe over two days after the roasting stage if you like, but the oven roasting phase is so low maintenance and gives me the perfect amount of time to prepare the buns and pickled vegetables AND enjoy a cup of tea.
2 1⁄2 lbs pork belly
3 tbsp sesame oil
1 tsp salt
2 tbsp brown sugar
4 3/4 cups all purpose flour
1 2⁄3 cups 1% milk
1 tbsp granulated sugar
1 packet rapid rise yeast
1 tsp baking powder, heaped
3 tbsp vegetable oil + extra for folding the buns
1 cucumber, sliced thin
3 large radishes, sliced thin (golf ball sized)
1⁄2 tsp chilli flakes, or fresh finely chopped chilli
2 tsp granulated sugar
4 tbsp seasoned rice vinegar
3 spring onions, sliced thinly
1 handful cilantro leaves
Optional: hot chilli sauce like Sriracha or some salty sweet hoisin
Equipment needed: parchment paper, a high-sided pan, bamboo steam basket or a metal veggie steam basket, a lid that covers the pan, and a tea towel
Preheat oven to 275 degrees Celsius
Lay the pork in a roasting dish and rub with the sesame oil, brown sugar, and salt and cover tightly with foil. Roast for 5 hours.
Make the buns. I would do this once the pork has been in the oven for about 3 hours for easy timing at the end. Mix the flour, baking powder, yeast, and sugar until evenly distributed, then mix in the milk and oil and knead for 10 minutes until a smooth dough forms.
Put in a bowl and cover with plastic wrap to prove in a warm area for about an hour or until doubled in size. Once proved, knock the dough back with a couple of fist punches and divide into 20 even pieces.
Roll each piece into a smooth ball and cover the buns with plastic wrap to prove a second time for 30 minutes. Roll out each bun into ovals about 4″ x 5″ and fold in half over an oiled chopstick. Set aside on a square of parchment until ready to steam.
Prepare the pickle. Toss the sliced cucumber and radish with the chilli, rice vinegar, and granulated sugar and chill in the fridge until ready to serve.
Once the pork is finished roasting, let it cool until just before you're ready to serve, about an hour will make it easy to handle, but chilling longer in the fridge will give you perfect slices.
Steam the buns. Do this only about 30 minutes before you plan to serve. Lay the folded buns on squares of parchment paper and arrange in the steam basket. Steam the buns over a pan of simmering water for 8-10 minutes. If you're McGyvering your steamer, set the open veggie steamer in the pan of simmering water and steam the buns in batches with the tea towel laid over them and the lid on top of the towel. The tea towel will swell upwards from the steam as well as absorbing the condensed vapour and stop it dripping back onto the buns.
Crisp the pork just before you're about to serve. Cut the chilled pork into 1/2-inch slices and lay on a baking sheet. Heat the oven to 400 degrees Celsius and crisp the pork slices until golden and warm, about 5-7 minutes. Keep a close eye on them to prevent them from drying out.
To serve, put 1 or 2 slices of pork in a bun and top with the pickled cucumber and radish, as well as some sliced spring onion and cilantro. Drizzle with some Sriracha or hoisin if you want some extra pizzazz!
Recipe created by Paige Matthie.