It's pretty hard to envision Prince Edward Island without a bright red lobster wiggling its way into the picture. It is a ubiquitous marketing symbol for the province and the lobster industry remains an important one for the Island economy and livelihood of many Islanders. And though we Islanders know it's right at home as star of the "feed" as it's commonly known, lobster has a decidedly posh image.
In the Atlantic provinces and New England states, what was once considered a poor man's food has transformed through time into an icon of luxury. Even 17th century artists, however, recognized its symbolic power, including lobster in many still life paintings along with other luxury goods like lemons and oranges. This month I've come up with some ideas to celebrate its simple beauty with recipes at both ends of the spectrum.
I'm sure I'm not alone in confessing that lobster rolls are one of my all-time favourite foods. A toasty buttered roll with plump, sweet chunks of lobster in a silky mayo is a thing of timeless beauty, and I'm not here to mess with a classic. My Chimichurri Lobster Roll is a trendy twist that adds some herby freshness and chili heat without drowning out the pure lobster flavour. These rolls are ideal for a special backyard party or fun family feast, as so much of the work can be done in advance of final assembly.
My Lobster Tarragon Ravioli, on the other hand, is a bit of a project, but the results are far worth the effort. They look positively elegant and have a delicate balance of flavours that really sing, perfect for a romantic date or an impressive dinner party. Having used the tails for the lobster rolls, here I've gleaned all the meat from the claws and legs so you can make both dishes with only two lobsters. Get some volunteers to help with the pasta making and you'll have a great food and fun-filled night!
Chimichurri Lobster Rolls
Serves 2 / 20 minutes
2 lobster tails (cooked)
2 New England-style buns (top split)
1 handful parsley
1 small bunch cilantro
3 tbsp fresh oregano
4 cloves garlic
1-2 Thai red chilies (to your taste)
1 shallot
¼ cup red wine vinegar
½ cup olive oil
¼ tsp salt
2 tbsp butter
¼ cup frozen corn
1 pinch cayenne pepper
1 tbsp mayonnaise
1 handful lettuce leaves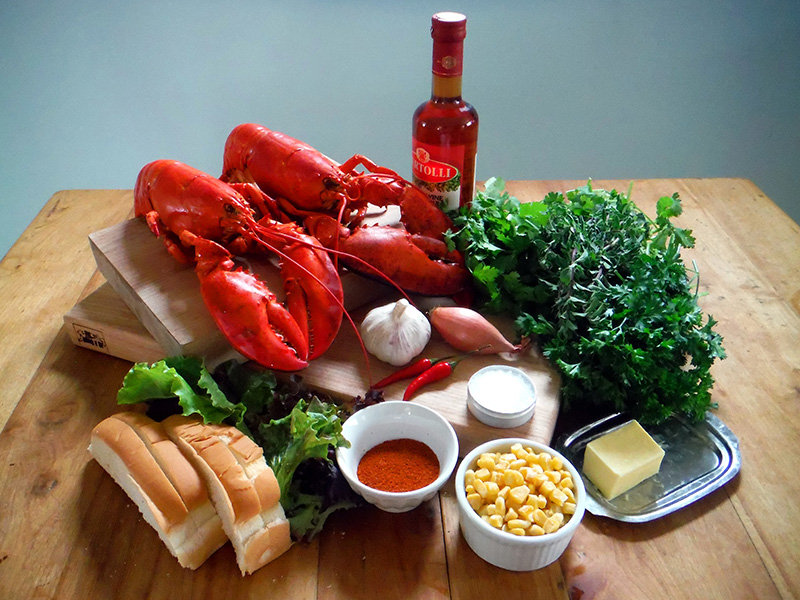 1. Make the chimichurri: finely chop the parsley, cilantro, oregano, chili, shallot, and garlic; combine with the olive oil, vinegar, and salt in a bowl. Set aside. Note: This makes about 2 cups of chimichurri so you can use it later to marinate your favourite meats or vegetables.
2. Cook the corn: heat 1 tbsp of the butter on medium heat and add the cayenne. Cook until fragrant, about 30 seconds, and add the corn. Cook through, about 2 minutes. Remove from the heat and set aside.
3. Prepare the lobster: chop the tail meat into good bite-sized chunks and toss with the mayonnaise.
4. Toast the buns: butter the outsides of the buns and toast in a medium skillet until golden and crispy, like you would with a grilled cheese.
5. Assemble: take a grilled bun and line the inside with lettuce leaves (this will keep it from getting soggy). Fill with half the lobster and top with about a tbsp of the corn and around 2 tbsp of the chimichurri.
Lobster Tarragon Ravioli
Makes 26 ravioli / 2 hrs
Dough
4 large eggs
400g or 3.5 cups of all purpose flour
+ extra for dusting
Filling
300g lobster meat (claws and legs
from two 1½ lb lobsters)
½ cup mascarpone cheese
1 heaped tbsp fresh tarragon, chopped
1 tsp lemon zest
1 tbsp lemon juice
2 tbsp whipping cream
Sauce
1 stick butter
1 tbsp fresh tarragon
1 tbsp fresh chives
2 cloves garlic, bruised
¼ cup light-bodied white wine
Lemon zest
1. Make the pasta: make a well with the flour in a bowl or on a clean countertop and whisk your eggs in a bowl. Tip the whisked eggs into the flour well and mix together with your hands a little at a time until it is all combined (or toss it all in a food processor and combine, tipping out to form into a dough). Knead the dough until it takes on a smooth and silky texture. This can take quite a while by hand, so you can also use a dough hook on a stand mixer to speed things up and save your arms. Wrap in film and rest in the fridge for 30 minutes.
2. Prepare the filling: finely chop the lobster meat until it is in small flakes and pieces (fine texture is best for ravioli). Mix in the mascarpone, tarragon, lemon juice, lemon zest, and cream. It shouldn't be runny, so add the whipping cream slowly.
3. Roll the pasta: portion the dough into even quarters, set up your pasta-making machine, and make sure you have a large, clean, lightly floured work surface. Sprinkle a bit of flour into the machine and roll it through to prevent sticking. Take one quarter of the dough and work it through the machine at the largest setting. Fold the dough back on itself and repeat five times, turning the dough 90 degrees each time to help you achieve nice straight sides. Now take the dough through every setting on the machine, giving it two rolls per setting except for the last one to help retain the stretch. The resulting pasta needs to be quite thin as you'll be doubling it up.
4. Fill the pasta: recruit a friend to help you with this stage. Lay one sheet down on a long work surface and spoon 1 tbsp of the lobster mix onto the pasta leaving about 2-3″ between blobs. Using a pastry brush, brush water on the pasta around the lobster. Then start laying down the second sheet, being careful to gently work out any air bubbles between the sheets. Cut out each ravioli with a knife and set on a floured baking tray. Continue until all the mix and pasta has been used. Depending on how your pasta has stretched out, it's possible you'll have some extra dough, which you can then combine, re-roll, and turn into long noodles like linguine or fettucine.
5. Cook the pasta: bring a large pot of water to a boil, add a good amount of salt (make it as salty as the sea) and add the pasta in batches of about 3 or 4. Cook for 3-4 minutes until the pasta floats. Be very gentle so as not to burst them, and don't overcook or they will turn to mush.
6. Make the sauce: on medium heat, melt the butter, add the two bruised garlic cloves and let them infuse the butter with their flavour. Add the wine and cook for 2 minutes. Add the tarragon and chives and remove the garlic cloves.
7. Serve the ravioli (3 – 4 per person): spoon over with the butter sauce. Top with lemon zest and enjoy your silky pasta pillows.
Words and Recipes by Paige Matthie