Everything you wanted to know about charcuterie but were afraid to ask
The BioFoodTech in Charlottetown is offering an introductory workshop on charcuterie (cured meats) in late November, led by Ontario's premier artisanal butcher and meat curer, Mike McKenzie.The two-day program is geared at smaller scale existing and new artisan entrepreneurs. Chefs and anyone else curious about curing and interested in learning how to making high quality, safe charcuterie products are welcome, said Joy Shinn, head of technical business support at BioFoodTech.
Program instructor Mike McKenzie is the owner of Seed to Sausage, a provincial processing plant and retail store in Sharbot Lake, Ontario. After the birth of his son, Mike left his job in the navy to start a salami business. Word of his high quality products spread throughout the culinary world and Seed to Sausage now supplies many of Ontario's high-end restaurants. Mike's goal is to make authentically Canadian world-class cured meat. Over the last five years he has gained recognition as one of Canada's top artisanal food producers and won a number of culinary awards.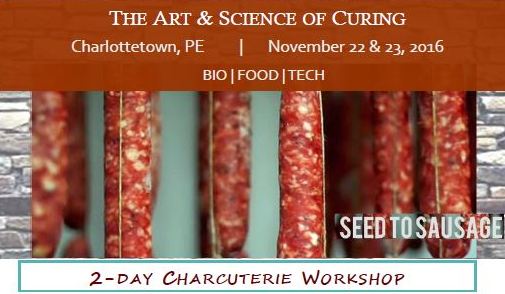 So what exactly is charcuterie?
"Charcuterie has been around since the 1500's and covers a range of cured meats, including sausages (saucisson), smoked meats, patés, and more," Joy said. "The word 'charcutier' originates from France, where butchers were not allowed to sell uncooked pork but hung 'saucisson' in their windows to lure customers in. Charcuterie is often made from pork, but other meats can be used."
The workshop focuses on semi-dry products, which are fermented and cured. "These products are unique in that they are made from raw meat, but are not cooked," Joy noted. "Rather, they rely on lactic acid fermentation to reduce pH, while temperature and humidity are monitored to control microbial spoilage. The result is a dense, chewy, slightly tangy meat, with a strong dry-cured flavour."
Charcuterie is a challenging product because it doesn't use traditional meat processing techniques that involve cooking or chilling.As a result, much art is involved in creating semi-dry, quality 'sausages' that are safe to eat. The workshop will cover both the art and science of basic processing, including: ingredient selection and recipes, principles of fermenting and curing, proper techniques of grinding/stuffing/tying/hanging, food safety, and provincial regulations. Participants will make and test products in the pilot plant, including Chorizo, Genoa, Nduja (a spicy, spreadable pork salume from Italy), and semi-fermented cooked Salami. "The course will also provide tips and techniques not found in textbooks that are invaluable to newer entrepreneurs," Joy said.
This program is one of a number of industry training and education courses offer by BioFoodTech. "More recently we've offered a suite of 'artisan workshops' featuring trainers with industry expertise eager to support smaller, and newer companies in areas such as cheese making, fermented foods and beverage, and craft distilling," Joy said. "Training is open to everyone – and geared to manufacturing food products for sale at farmers markets, retail stores, and food service."
Rod Weatherbie