Inaugural conference highlights food industry issues while celebrating Island's abundance of good food
It was an unseasonably cold and damp two days in October when farmers, food entrepreneurs, celebrity chefs, culinary students, food producers, and foodies gathered to take in the first Forage Prince Edward Island Food Symposium.
Held over two days, the symposium's goal was to create "a gathering place that encourages collaboration and learning amongst leaders and innovators in the food industry and beyond," Tracey Singleton, co-chair of the Forage PEI Committee, said in a statement.
The first day included multiple panel discussions, the first of which was 'Creating Influence', moderated by chef Michael Smith. The panelists were chef Todd Perrin, Kayla Short, Al Douglas, and Dennis Prescott, all of whom have created their own followings across social media platforms. Throughout the discussion, the theme of being authentic and recognizing the responsibility that can come with having influence on social media was prevalent. Perrin said, "That impact you have, that connection [with your audience] is far, far greater than you realize." He further iterated, "they follow you, that means you have to lead."
Keynote speaker, Canadian-born Amanda Cohen, owner of Dirt Candy, a vegetable-based restaurant in New York City, brought a strong message to the attendees. Her talk was a no-holds-barred indictment of the many issues that the food world, and in particular, the restaurant industry, is currently facing. From low profit margins, high labour costs, and difficulties finding good staff, rampant sexism within the food world, to the horrid and difficult spotlight on restaurants and chefs resulting from the 'Me Too' movement, Cohen was blunt and to the point. "Restaurant culture, the one magazines love to write about, the one photographers like to take pictures of, the one we're supposed to work in, it's broken. We have built an empire out of excess and now we are standing in its ruins."
Cohen spoke strongly and passionately about the issues that she sees within the industry, but offered her take on what can be done to improve things. She called for governance, rules and best practices within the restaurant industry, for standardized sexual harassment training and reporting. "We need governance, not gangs; we need guidelines, not gossip. And when we are finished, we will not be able to recognize this industry anymore, and that's the point."
Following Cohen's speech, the panel discussion 'Women in Food' was thought-provoking. The panel included: chef Charlotte Langley; Jessica Emin, a food stylist and photographer; chef Sarah Bennetto O'Brien, entrepreneur owner of The Handpie Company; chef Amanda Cohen; and Sally Bernard, farmer and co-owner of Barnyard Organics. Moderated by Hopyard/Sugar Skull Cantina's chef Jane Crawford, the panel openly talked about issues faced by many women within the food world. Whether it was facing the assumptions made that a woman would not be a decision-maker within a business, to blatant sexism and harassment, to the challenges women have in returning to their jobs as chefs after having children, the discussion did not shy away from uncomfortable topics.
As the discussion concluded with hopes for women in the food world in the future, Bennetto O'Brien was not hesitant to challenge the Culinary Institute of Canada's leadership that was present, stating that there needs "to be more women in the culinary leadership", and suggesting that they hire more female instructors within the Institute to train future chefs. Her challenge was met with a hearty round of applause from the attendees.
Additional panel discussions rounded out the afternoon, with focuses on trend-setting and the possibilities that the legalization of cannabis will open up within the food industry. The first day of the symposium concluded with an evening reception at the Culinary Institute of Canada.
The second day of Forage featured a fully-immersive, hands-on experience for attendees. Chef Michael Smith of the Inn at Bay Fortune and a member of the Forage PEI committee, hosted a progressive five-hour food experience at the inn. Stations throughout the property featured local chefs tending open fires where fish, beef, cheese, potatoes, and pork were grilled and prepared for an afternoon of feasting. A 'shuck-your-own-oyster' bar was also very popular with the crowd. As it was a cold day (there had been snowfall the previous evening!), the open fires throughout the property became not only ovens and grills for delicious food, but warming spots for people to gather around, further highlighting the communal nature of food and meals.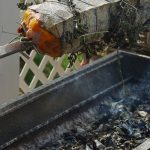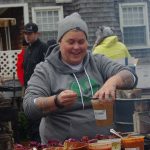 A highlight of the day was the creation of a Guinness World Record Charcuterie Board, guided and curated by Canadian expert Michael McKenzie of Seed to Sausage. The final board was over 52 feet long, and was so long that it poked through the window of the Inn's sunroom. Laden with meats, cheeses, breads, and condiments, most of which were contributed by the attendees, the excitement when it was lifted into the air (to demonstrate that the board was indeed one long solid piece) was infectious.
As Canada's Food Island, we have much to offer the world, and the inaugural Forage symposium highlighted much of what we already know: our Island's food, our food industries, our chefs, our restaurants, and our food scientific and educational sectors are second to none, and we should be proud of what we have here. No doubt, there are challenges to be met, but who better to meet them head-on but us?