New Fall Flavours evening at Red Shores delights diners
Kelp. Not your traditional go-to ingredient for creating a meal, but Chef Antonio Park set out to change diners' minds about this ancient seaweed at a new Fall Flavours event.
Chef Park is known for his critically-acclaimed restaurant in Montreal, Park Restaurant, and he partnered with Chef Andrew Smith from Top of the Park at Red Shores Racetrack and Casino on September 12 to offer guests an exclusive dining experience. A new Fall Flavours VIP event, it offered diners an intimate evening of delectable dishes and up-close-and-personal moments with both chefs.
Arriving at Top of the Park, the tables were tastefully decorated with fall floral bouquets, and Jon Rehder, PEI's recipient of the Stompin' Tom ECMA award in 2018, was providing musical entertainment to set the mood. The evening began with complimentary wine from the bar and with hors d'oeuvres stations set up, diners happily mingled. The pre-dinner nibbles included shrimp avocado crostinis, fresh spring rolls, and a massive sashimi platter of fresh-caught tuna and salmon that Park presented to the gathered diners with great ceremony.
As the sun was setting across the harness racing track, we were seated to begin the five course meal. Looking down at the table, each place setting had multiple pieces of paper under the napkins, which host Lee Drake took the time to explain. Since Top of the Park is centred around dining while being able to watch harness racing, we were in for a treat later on, with a simulcast live race from Ohio being broadcast at each table's monitor. And, what would a harness race be without a wager? Each person was given a complimentary bet on the race, as well as a credit for the casino.
"Working with Chef Antonio today, has been a true delight," Chef Smith shared with us before Chef Park was given the microphone. Chef Park took the time to praise Canada and all we have to offer, "We have to share what we have. We have amazing talents, we have amazing techniques, but on top of that, we have the best natural resources. From the sea to the land to the grass to the mushrooms that we're gonna use that you guys are gonna eat on the first dish, it's a beautiful thing."
"The whole menu is about the sea," Chef Park told us how he was inspired to use kelp as the starting point for the meal. I was sitting beside a local chef, who jokingly (or maybe not so jokingly) remarked that the desire to use seaweed in food was not one he shared. It would be a joke that carried through the evening's courses, as elements of each dish had kelp in the ingredients.
The Potage de Champion au Miso Biologique was a hearty soup made with kelp stock and a blended potato and miso base with shiitake, oyster and chanterelle mushrooms which were each prepared differently (seared, pickled, and seasoned lightly).  Paired with a Robert Mondavi Fumé Blanc wine from the Napa region, the flavours of the mushrooms complemented the slightly salty miso, and it was not long before empty bowls dotted our table.
Pork belly braised with kelp stock and egg that was then used to create an egg salad (the braising took about 6 hours), a slice of cucumber and topped with a spicy maple syrup soy sauce, and chicharon in a steamed bun was next on the menu. The Dreaming Tree Crush full bodied red wine served with this course was chosen to soften the spiciness of the pork belly.
Mingling among the tables, Chef Park made sure to connect with each person over the course of the evening, stopping to chat and joke with folks. It's the up-close-and-personal connection with chefs that Fall Flavours has become known for and this meal was no exception to that rule.
Chef Park made it clear that the meal being presented before us was not due to his efforts alone. "We have about six different chefs in the back, hanging out, sharing ideas. This is why Fall Flavours is beautiful." Shout-outs went to his Chef de Cuisine, Darren Rogers (who would go on to win the Garland Chef Challenge at the PEI International Chef Challenge later in the week), Chef Andrew Smith, Top Chef Canada winner chef Ross Larkin, among others.
Before long, we were treated to the third course of Tuna Carpaccio. Incorporating-what else?- kelp into the dish, bluefin tuna was sandwiched between kelp to marinade. Topped with raspberry and blueberry gel and wild puffed rice, dwarf peaches that had been marinated in truffle oil for six months along with a hint of lime, jalapeno and local basil emulsion, the course was light and refreshing. A pairing of a New Zealand Marlborough region's Sauvignon Blanc was chosen to complement the tuna's fat.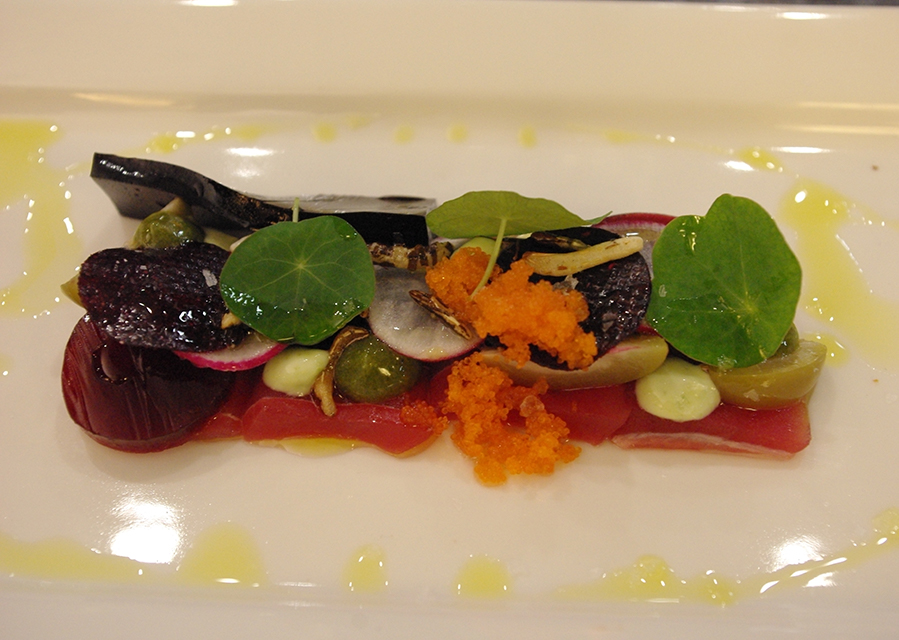 By now, I was definitely feeling well-fed, and when a large piece of seared-on-one side halibut that was then steamed in kelp, covered in a bearnaise sauce with "tons of caviar" and topped with kelp "chicharrón" landed in front of me, I wasn't sure whether I had room for it! But rest assured, myself and all my tablemates somehow found the space and clean plates were soon taken away. As we were eating our halibut the simulcast harness race entertained everyone, and when the winning horse crossed the line, our table, in particular was excited, as we had a winning ticket amongst us.
As the evening wound down, dessert, tea, and coffee was served, along with a glass of Italian Prosecco. The final course was a delicate orange Grand Marnier flavoured cheesecake, with sorbet on the side. No kelp in sight, phew!
Wrapping up the night, Chef Park and Chef Smith took the time to introduce all the kitchen staff and chefs who had worked so hard behind the line to serve us an incredible meal. A loud round of applause sounded throughout the dining room as we showed our appreciation for the wonderful meal we had been served. I'm already looking forward to next year!