Beef n' Blues, a 2017 Fall Flavours Signature Event was held Friday, September 15 at the Credit Union Place in Summerside.
Chef Michael Smith, the Island's food ambassador, and the event's host welcomed guests to the event with beef tacos during the outdoor reception. He later quipped that he was tired from making thousands in the span of an hour.
The main event began at 7, after preliminary introductions of the menu and a quick overview of a new app (for your phone, not for eating), The Roundup tm" Touted as the definitive guide to buying and cooking Canadian beef, it is available through the Apple Store and Google Play.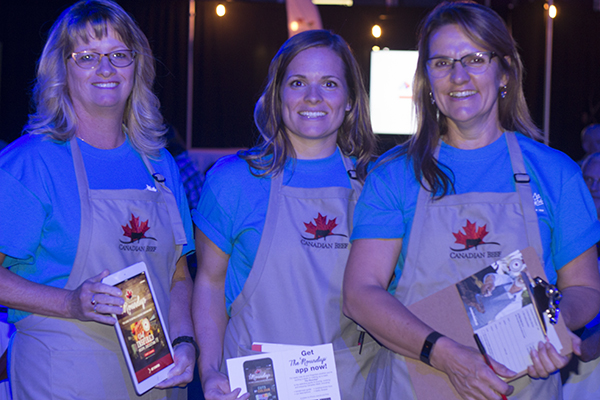 The attendees had 9 booths to choose from and local chefs were up to the task. Line-ups never stopped with people going for seconds and thirds.
"It's a tour de cow," Smith informs the crowd, referring to the roving stations that have been set up. The tour includes braised beef tongue sliders in a stokdijk jalapeno mole prepared by the Festival's title sponsor, Sobey's, So Cal tri tip steak tacos  by Anson's Restaurant and Bar, and smoked hanger steak perogies with bone marrow butter by Open Eats. There's also beer braised short rib by Brothers 2, red wine braised oxtail stew by Broadway 45, classic beef stroganoff by ADL,  Island ground chuck by Breakwater Bar and Grill, apple and bourbon glazed brisket by Ship to Shore, and craft beer flat iron steak (fiveelevenwest). Samuel's Coffee House rounded out the evening with a PEI potato chocolate cake and caramel apple doughnuts.
As the evening was ending, guests were treated to the blues vocals of Chastity Smith. The event was sold out and another successful Beef n' Blues is in the books.
.