With winter lurking around the corner, it will soon be time for us to pack away our garden tools for another year. By taking a few simple steps, you can prolong the life of your favourite tools and save yourself money too.
Before putting your tools away for the season, make sure dirt is removed from every part of the tool itself and take time to rinse the handles. Sometimes dirt can be removed with a simple spray down from the hose, but for stubborn dirt it's okay to use steel wool or a scrub brush. Steel wool can also be used to remove rust on the metal of the tools.
While cleaning your tools, take note of any loose screws and tighten them. You'll also want to take a close look at the handles of the tools —any minor splinters in wood can easily be sanded away, but handles with major splits in them may need to be repaired by a professional or discarded.
Check to see if your tools are still sharp; if the blades have major nicks in them or  the edges are rounded over, they're likely quite dull. Most garden tools need to be sharpened at least once a season and prior to storing them for the winter is a great time to do it, so the tools are ready when you dig them out of storage in the spring. Sharpening can be done by hand with a file or a whetstone, or ask for recommended sharpeners next time you're at your local hardware store. Remember, it isn't just loppers, snips, and shears that need to be sharpened; edgers, spades and hoes can also benefit from a sharpening.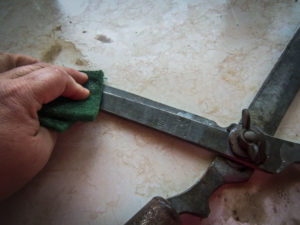 After cleaning, tightening, and sharpening your tools, let them air dry. Next, you should protect the metal of the tools by coating them in vegetable oil with a cloth. Wooden handles of tools can be given a coat of linseed oil or beeswax (let it sit for a few hours before buffing it), but if you don't have either of those, you can go ahead and use vegetable oil.
Finally, store your tools in a watertight shed or garage. It's best to hang them, for a number of reasons: they are out of the way; their sharp edges won't be sitting on the hard surface; and, they won't come into contact with dampness on the off chance moisture does get into the storage area.
Following these simple steps will help prolong the life of your garden tools and will ensure they are ready for use again in the spring.
Grace Kimpinski