Food product development centre applying innovation to community food issues
If you call yourself Canada's Smartest Kitchen (CSK), you had better live up to the name. And there's plenty of evidence that the Charlottetown-based food innovation company is doing just that, earning a reputation for their work with food businesses, large and small. But being smart isn't the only thing the CSK wants to be known for. The company also wants to build corporate social responsibility into its DNA.
"I am a hippie disguised as a capitalist. Or maybe I am a capitalist hippie," says Peter Crooks, executive director of the CSK, of his desire to make CSK a model for corporate social responsibility.
Crooks joined the company 5 years ago and has helped transform the CSK into the cutting-edge food innovation company it is today.
"I believe innovation comes from different people," Crooks says. His experiences in various industries allowed him to gather a team of experts with multiple backgrounds, from chefs to bioscientists, to food stylists, project managers and more. "Two principles are at the root of our success: demonstrating value and managing relationships. […] Our growth comes from client referrals."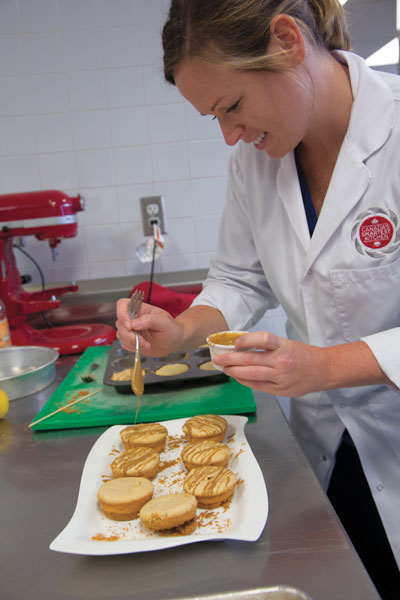 The CSK team takes an integrated approach to food product development that builds on the food science and business elements necessary to bring a product to market. The result is proprietary process that includes a strategic business review, market assessment, concept ideation, R&D, and technical scale-up.
Crooks believes the CSK's network plays an equally significant role in their business model. Close connections to local resources, including the Institute's chefs, PEI suppliers, and the Island's infrastructure, as well as collaborations with experts and partners allow CSK to be a one-stop-shop.
With a view to serving not only its clients, but the community that it is part of, Crooks is now focusing on tangible ways to address societal issues including food insecurity and food education.
To this end, the CSK added $15,000 of its own funds to a $10,000 grant it recently received from PEI's Department of Agriculture to provide what he calls "a virtual space" that will help foster nutrition and food education for kids.
"I want to link PEI's cool innovations together. The greenhouse in Morell, the gardens of the Scotford Reserve, PEI Food Exchange," says Crook. Easy access to information for everyone involved in caring for or educating a child from kindergarten to grade 12 is the main goal of this initiative.
"Twenty seven percent of children in PEI live in a food insecure household. That's second to the Arctic," Crook says. "We should be appalled […] We live in the garden of Canada but we cannot feed our kids."
CSK is also supporting Growcer Modular Food Solutions, an Ottawa-based organization that invented a food growing system which fits into a 40 ft. container, allowing those in the Arctic to grow their own food year-round. Crooks wants to add a mobile container kitchen to the growing container and plans to bring the same concept to rural areas in PEI. Such an outfit could offer commercial kitchen space for local food entrepreneurs and artisans, while also growing food 365 days a year.