It's funny that the sorts of foods rumoured to be aphrodisiacs are things you really don't need an excuse to eat. Red wine? Drink away. Chocolate? Don't need to ask me twice! Oysters? Bring them on.
This is all just myth. No food is an aphrodisiac, but some foods can certainly set the mood for a romantic evening. And none better than oysters: the smell of sea air, the salty hit of the ocean, the sweet flesh. These all combine to bring back memories of summer and relaxing times spent by the shore. Oysters may not make you more romantic but they can certainly make you happy.
Not everyone likes oysters, which is a shame. Part of the problem is that when someone hears oysters they think "Oh no, I have to eat them raw." And it doesn't help that there are a lot of purists who think you should only eat oysters raw. This is nonsense. A raw oyster is a beautiful thing to be sure, but cooked oysters are equally delicious and heat brings out different flavours and textures.
We have three ways to prepare your romantic oyster treat: raw, baked, and deep-fried. And we've included some extras to help create some flavour complexity.
Note: Oysters are a low calorie food so enjoy. If you are used to getting 2,000 calories a day you would have to eat 285 medium sized oysters to meet that amount. I highly recommend attempting this.
BAKED OYSTERS WITH BACON JAM AND GOAT CHEESE
This sweet jam holds its own with the sea-salt punch. It comes to us courtesy of Jeff Noye from Valley Pearl. Thank you for sharing, Jeff!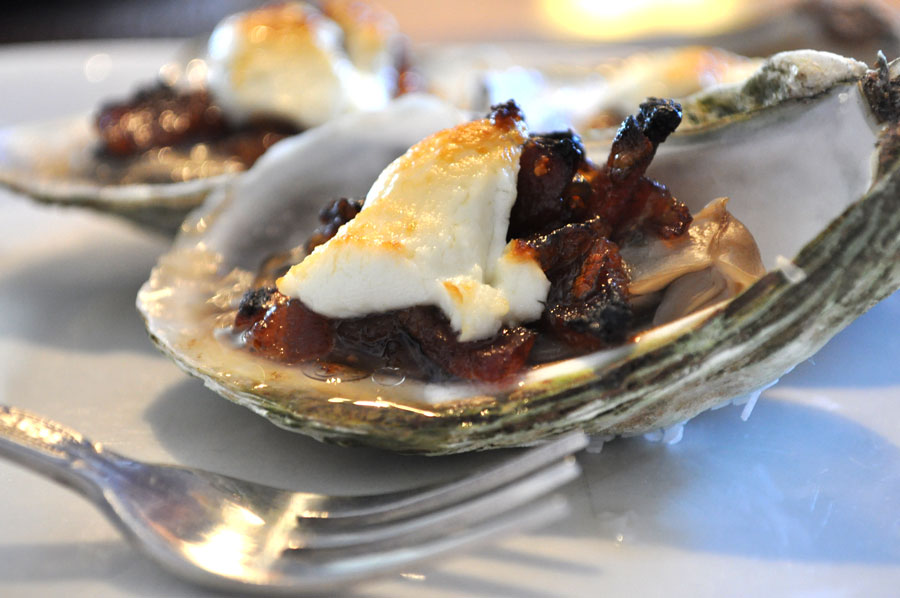 Ingredients:
Bacon Jam
1 lb bacon diced
2 red onion, diced
¼ cup balsamic vinegar
¼ cup brown sugar
Oysters
Shucked oysters in the half shell
Goat cheese
Coarse salt
Preparation:
Bacon Jam
Heat pan or skillet on medium high. Add bacon and cook until almost crisp. Drain most of the fat.
If needed, deglaze the pan with some white wine (should you have it), or water. Add onions and cook until just translucent.
Add vinegar and brown sugar. Stir then reduce heat to low/medium-low continuing to cook for 30 minutes.
Remove from pan and let cool.
Baked Oysters
Preheat oven to 475°F. Shuck oysters and place on a bed of salt in a shallow oven-safe dish or plate.
Top each oyster with ½ teaspoon of the bacon jam then with ½ teaspoon of goat cheese.
Pop oysters in the oven on the top rack, turn off heat, and turn on broiler. Bake for 10-12 minutes or until cheese begins to brown.
Remove from oven and share.
DEEP-FRIED OYSTERS WITH LEMONY REMOULADE
Ingredients:
Remoulade
1 cup mayonnaise
2 Tbsp minced cornichon
2 Tbsp minced Italian parsley
2 Tbsp minced capers
2 Tbsp minced shallots
1 Tbsp grainy Dijon mustard
1 Tbsp minced fresh tarragon
2 Tbsp red wine vinegar
1 tsp minced anchovy
½ tsp paprika (smoked if you like)
½ tsp Sriracha (more if desired)
Zest of one lemon minced
Salt and pepper to taste
Oysters
30 shucked oysters, shells discarded
2 cups flour
4 well-beaten eggs
2 Tbsp cornstarch
2 Tbsp soy sauce
2 cups Panko or other bread crumbs
Salt and pepper
Oil for deep frying
Preparation:
Remoulade
Mix all ingredients in a bowl until well incorporated. Cover and place in refrigerator.
Deep-fried Oysters
Start heating your oil to 370˚F.
Set up a deep frying prep station. A bowl of shucked oysters in their liquor; a bowl of flour seasoned with the salt and pepper; a bowl with your eggs, cornstarch, and soy which have been mixed; and a bowl with the bread crumbs.
Dredge each oyster in flour, then the egg mix, and then roll in the bread crumbs. Place coated oysters on a plate. Once your deep fryer is ready, fry the oysters in small batches so as not to crowd the fryer or lower the oil temperature too much.
Once the outside of the oyster is golden brown, remove from fryer and let sit on paper or a clean dish towel.
Plate and serve with a small dish for the remoulade. You can dip the oysters in the sauce or spoon a small amount on each one.
RAW OYSTERS WITH WHITE WINE MIGNONETTE
Pair with this mignonette from John Bil (Ship to Shore, 2018, courtesy of Anansi Press)
Ingredients:
John Bil's Simple Mignonette
200 mL (3⁄4 cup + 5 tsp) apple cider vinegar
1 large or 2 small shallots, minced
15 mL (1 tbsp) cracked black pepper
200 mL (3⁄4 cup + 5 tsp) Riesling or other fresh white wine
Oysters
Shucked oysters in the half shell
Preparation:
John Bil's Simple Mignonette
In a bowl, combine vinegar, shallots, and pepper. Set aside to marinate for 10 to 15 minutes. Stir in wine.
Mignonette will keep in an airtight container in the refrigerator for a few days. Discard when shallots get soft. Best made same day as eating.
Makes 400 mL (enough for up to 100 oysters).
Oysters
Shuck oysters and place on ice (or this time of year get a plate of snow), spoon small amount of mignonette onto each and enjoy.
A special thanks to our sponsor this month: