Saving Shavings, or, Stretching Your Food Budget
Often what heads to the compost heap or bin is actually edible food. This month we have some simple recipes using vegetable peels—probably the most common thing that people toss out when doing their meal preparation. Along with these simple yet flavourful recipes, we've included a number of great tips on making food 'waste' less wasteful, as well as getting the most out of our food budget. It's amazing what we can create with a little ingenuity. Really, as long as it's not moldy or truly spoiled, you can make use of it!
Recipes developed, written, and created by chef Sarah Forrester.
Photos by Slickphotography.
Special thanks to Gallants & Co. Island Food To Go for providing the kitchen for Sarah's work!


Sautéed Potato Peels
Ingredients
4-5 potatoes (2 cups of potato peels)
2 Tbsp olive oil
Salt
Pepper
1/4 tsp dried herbs like rosemary, thyme, and oregano
1 tsp nutritional yeast
Preparation
Clean potatoes well, scrubbing skin. Peel and set aside peels. Pat potato peels dry. Whole peeled potatoes can be cooked as desired
Heat oil over medium high heat in a frying pan. Add peels and sauté. Sprinkle with salt, pepper, and dried herbs. Sauté for 5 minutes or so until peels soften and are cooked. Sprinkle with nutritional yeast and mix into peels. Enjoy.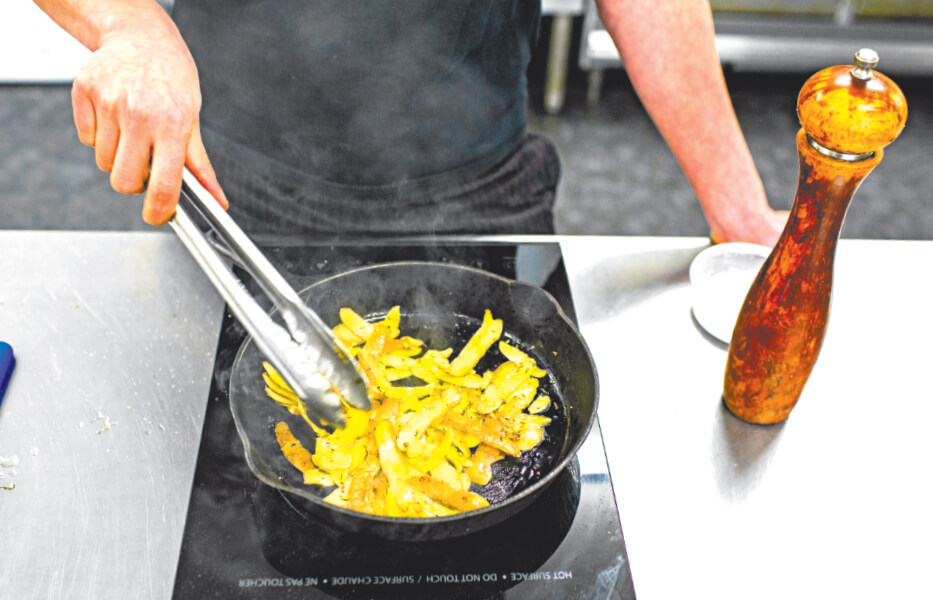 Alternate oven method:
Preheat oven to 350°F. Toss potato peels with olive oil, salt, pepper, nutritional yeast, and dried herbs.
Put on a baking sheet, and bake at 350°F for 15 to 20 minutes. Stir once.
This method will result in a crisp peel, similar to potato chips.
Food Waste Tip
You can regrow vegetables like celery, lettuce, and green onions. Simply cut off the ends and place it in water. Within a few days you will have fresh growth sprouting.
Food Waste Tip
Save scraps, vegetable ends, onion skins, and peels for vegetable stock. You can save them in a bag in the freezer until you have enough. Dump into a pot, add water, simple salt and pepper, and simmer for a few hours. Voila! Homemade vegetable stock. It's great because you can control the amount of salt in your stock this way. One hint though, don't use potato peels in stock as they can cause the stock to be starchy and cloudy (unless you are aiming for a potato soup or chowder base)
Food Waste Tip
Boil apple cores or citrus peel on the stove for a natural air freshener.
Food Waste Tip
Flavour water with cucumber ends, mint stems, citrus


Carrot Curls
Ingredients
4 cups carrot peels (or beets skins, parsnip peels)
1 cup apple cider vinegar
1 1/2 cups water
1/4 cup sugar
1/8 cup salt
2 bay leaves
1 tsp mustard seed
Note: Be sure to scrub the vegetables well before peeling, and locally sourced organic vegetables are recommended for these recipes.
Preparation
Wash carrots well, peel with vegetable peeler. Continue to use peeler to create long thin slices of carrot. Pack carrot peels tightly into a glass container.
Bring all other ingredients to a rolling boil in a saucepan.
Pour hot mixture over carrots, cover and set aside till cooled.
These can be used right away or stored for several weeks in the fridge. They make a great side dish or garnish
At this time of year, you can buy organic potatoes, carrots, onions, greens, tomatoes, and cucumbers at Charlottetown Farmers Market, Farmacy & Fermentary, and Summerside Farmers' Market. Look for these certified organic producers: Centrebrook Farm/Heart Beet Organics, Crystal Green Farms, Springwillow Farms, Red Soil Organics, and Schurman Family Farm.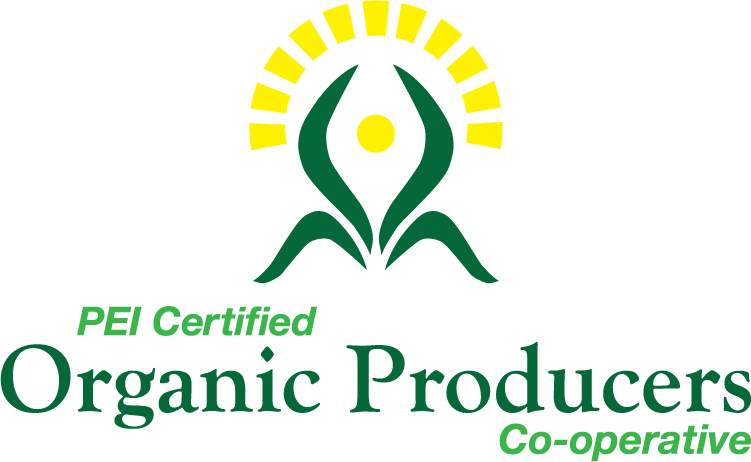 Food Waste Tip
Use cauliflower greens and broccoli stems for a 
nice purée
Food Waste Tip
Peel or zest all the rind from citrus fruit (lemons, limes, oranges, grapefruit) before you use it. Place zested rind on a plate and let air dry. Store in a jar. When a recipe calls for zest, you can use your dried
Food Waste Tip
Boil apple cores or citrus peel on the stove for a natural air
Food Waste Tip
Make pesto from carrot tops or turnip greens. Carrot tops can also be used in smoothies for an extra nutrition boost.