Summer opening showcases new rotating menus and more space for diners
Even the sign is angled in a way that invites and welcomes you in for a meal. Our reservation was for 7:15 but I arrived early to walk the grounds a little and breathe in some of the country air.
The Pearl is tucked between North Rustico and Cavendish on 7792 Cavendish Rd. Here you will find some amazing dishes prepared with locally sourced produce and an atmosphere to help take you out of the daily routine. I spoke with owner Tanyia Kingyens.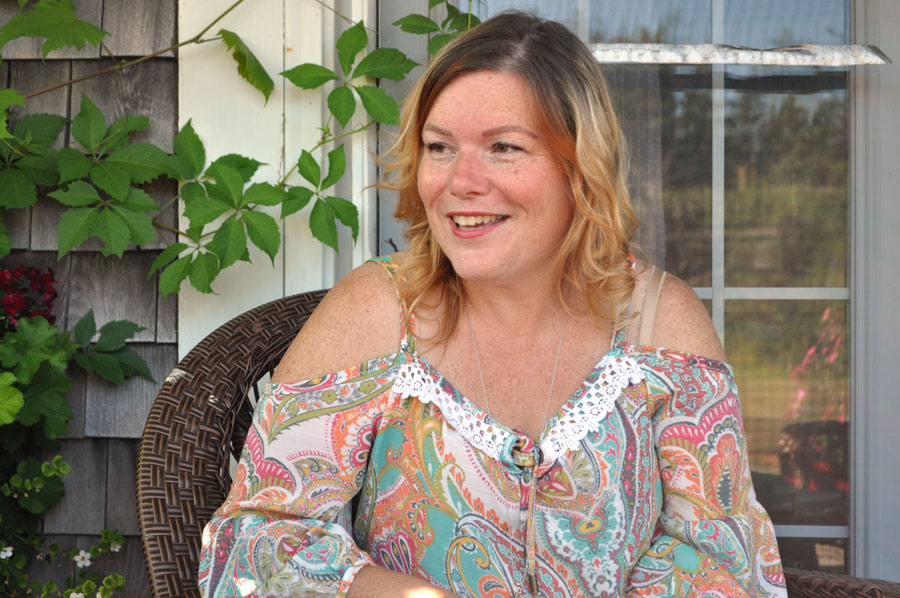 Salty: Can you tell me a little about your background before you purchased The Pearl?
Kingyens: After nearly 13 years of building a senior care community in Summerside we sold our business at the end of 2014. After travelling for about 15 months I really needed to find something that gave me an opportunity to serve others once again. I had applied for positions all over the North Shore but when no one responded we found out The Pearl was for sale. It had been one of my favorite places to dine. We viewed the property and the rest, as they say, is history.
Salty: With the new season comes new changes in terms of both menu and structural updates. Please paint a picture of what you have done and are trying to accomplish.
Kingyens: After a diagnosis of Celiac [disease] in March, my husband and I came to understand just how limiting eating out can be for someone with an intolerance or allergy; not only the selection on most menus, but the risk of cross-contamination was an even greater concern. We have taken steps to keep our facility gluten free in preparation of all items. While we do have a few items on the menu that contain gluten, we have turned to small local businesses, such as Glasgow Glen Farms, to produce them, thereby keeping our kitchen gluten free. When the items come to the restaurant they are handled in a separate space and the service team is trained in proper handling.
Salty: You have made some improvements to the restaurant as well.
Kingyens: After a complete remodel of the upstairs, we can now accommodate almost twice as many guests. We still, however, must stagger our parties to allow everyone the full experience and a pace that the kitchen can handle. The kitchen has been redesigned for better efficiencies and the former lower bar is now our garde manger station where guests can observe the cook preparing the appetizers and desserts.

Salty: Using locally-sourced produce is something you mentioned as being important to you. That is being reflected in a new approach with your menu this season. Tell us about that.
Kingyens: Our new format also allows for four menu changes in the hopes that when you return you will find a new favorite dish and leave you longing to return to find another when the next menu is released. We serve local ingredients and have, over the course of our four menus, more than 40 Island producers.
I went back to tasting and taking pictures of the food. We were seated upstairs in the newly renovated area. There was something calming and sweet about our table. Every plate and glass specifically chosen for its purpose. I got to speak with chef Steven Wilson just before desserts arrived.
We talked about the food and how things were prepped. I made a comment about how not having salt and pepper on the table is a statement about the care he and his team put into their dishes. He seemed pleased with that, and he gave me some of his history, his time at The Pearl, and the direction he would like to see things go.

Salty: Let's start with a little of your background and what got you started into cooking.
Wilson: I was born and raised in Ontario. My mom is half French and half Native [Algonquin] and Dad is straight Scots, with roots in the Miramichi in New Brunswick. I was cooking in the kitchen with my grandmothers for as long as I can remember; pouding chomeur and fish fry-ups with my Granny, shortbread and preserving with my Nan. They taught me the joy of feeding people. The strongest lesson they taught me was that when you cook for people with love, you feed their body, their heart, and their soul.

Salty: Ingredients are of course important…they are what make the dishes and The Pearl prides itself on the use of local ingredients. Tell me why that is important to you and how you use these ingredients to augment a diner's experience.
Wilson: My cooking has always been ingredient-driven. I want to show off my ingredients so that they become the true stars on the plate. And PEI has such amazing food. From fiddleheads and cattail hearts from our forager, to the amazing produce of our farmers, and of course the incredible seafood! We can't help but be inspired in the kitchen. As a team, we strive to prepare dishes that evoke forgotten memories, while at the same time exciting our guest's palate and imagination.

Salty: How long have you been with The Pearl?
Wilson: Tanyia and Rod brought me to The Pearl at the beginning of last season, so this is my second year here with them. My wife has loved the Island since a visit here when she was 18. We're a bit older now. 10 years ago, we came to PEI for our honeymoon and I understood why my wife loved it so much.
So last winter we decided to sell the house in Ontario. I found a beautiful old farmhouse overlooking the West River and we packed up the kids and animals and made the move. And I haven't regretted it for a single minute. I've fallen in love with the Island, its food and most importantly, the people. I truly feel like I'm home. "Not an Islander by birth, but one by choice."

I thanked him for his time, since desserts arrived and I had some pictures to take before the ice cream melted.
The Pearl is open Tuesday-Saturday 5 pm-9 pm. Call ahead for reservations.