Finding buyers and vendors for our marzipan
I still remember the feeling – how nervous we were when we brought our merchandise to the Victorian Christmas Market in Charlottetown at the end of November. It was our first attempt to sell our marzipan to the general public. Mike asked me: "Do you think anyone will want to buy it?" I didn't really have an answer for him at that time, other than "We'll have to wait and see."
A business idea and a great product are nice and all, but if there is no market for it there is no sense in continuing since no money will be earned. There are a lot of ways to test your product and target market before you sell it – market research, competitive intelligence, sensory labs, etc. You can find a variety of local companies to help you with such an endeavour.
Mike and I did a bit of online research ourselves, but then chose to rely mostly on the input of our friends and coworkers in regards to product development. We listened to our guts when it came to the business itself, mainly because we didn't have a whole lot of money lying around to rely on professional services.
So our big risk was that nobody would want to actually pay money for our products. Because they didn't know us. Because they didn't care about us. And because they probably had never heard of marzipan
Well, had we known what magic PEI had in store for us, we wouldn't have been so nervous! The launch at the Victorian Christmas Market was a huge success. Thanks to Salty (we are more than grateful for their continuous support) the word about Maritime Marzipan was out already and a lot of Islanders came looking for us. Many folks craved marzipan as they remembered having it as treat in their childhood, often when European roots came into play.  Others who had no clue what it was tried our samples and liked it. We were over the moon! Mike worked night shifts that weekend to produce more merchandise and my tired feet stood strong for hours at the market;  the excitement kept us going.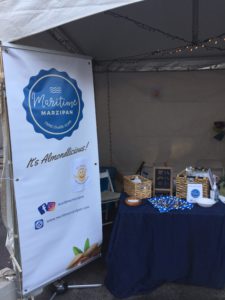 At the same time, Julain from Fresh Start Fauxmage, more an acquaintance of ours at the time, generously helped us get in touch with what turned out to be our first retail store, Riverview Country Market. Trisha and the team were amongst the first to put their faith in us. They ordered a large box of marzipan that we dropped off that same weekend and had us in for a sampling day a couple of weeks later. Thank you to both Julain and Trisha!
And the support of PEI's food community didn't stop there: we were actively approached by shop owners who wanted to take on our marzipan; we talked to other food businesses about cooperating by using their ingredients in our product for different marzipan flavours, one person emailed us to suggest we sell marzipan to Farmed in Summerside so that she could get the treats there. PEI truly thrives because of its community!
We want to thank all of our individual customers and our first wholesale customers: Riverview Country Market, Kent St Market, Butcher & Butcher, Angelika's, Farmed, Kate The Spice Lady, In Good Taste, MacDonald's Rite Shop. We won't stop here and are continuously looking for new opportunities to be able to sustain our business model. Our promise to you is new shapes and flavours so that you never get tired of treating yourself with marzipan!
Send us a note at info@maritimemarzipan.com if you are interested in selling, buying or using our products (we do sell marzipan for baking as well!).