January can be a month of deprivation. The New Year's craze for cleanses and fasting, all in the name of renewal and improvement, is simply not for me. Life is too short to spend at least one month out of twelve trying to convince yourself that you can live happily on green juice and air alone. Isn't it better to live each day in balance, making allowances for those indulgent meals by sandwiching them between more saintly dishes, or just allowing yourself to really savour beautiful, nourishing food? What month has greater need for moments of pleasure than January?!
One of my little pleasures that provides solid nutrition AND joy is the humble beet. Gone are the days when root vegetables were just sad, boiled side dishes. Beets are one of winter's gems, coming in a variety of vibrant colours and adding earthy sweetness to any dish. From the ever-popular beet and goat cheese salad, to the ingenious creativity of the beetroot chocolate cake, beets have stepped up their game and are often the star on the plate.
This month I'm serving up two beet dishes that are equal parts delicious and nutritious. First up is my recipe for a Rainbow Borscht, which is made with 4 varieties of beets and a whole host of other seasonal veggies. There are a number of different national traditions when it comes to this soup, and mine is simply one version of the classic dish, with a couple of twists to tease out its flavours. The result is a rich vegetable soup that perfectly balances the savoury, sweet and sour, while basking in its glorious pinkness.
The second recipe is an inherited favourite of mine – gravlax, or salt cured salmon. The most traditional Scandinavian version sees the salmon cured with dill, salt and sugar. Mine makes uses of the beet's natural dye to stain the pink salmon flesh a beautiful shade of purple. The earthiness of the beets is lifted by the herbal notes in the gin and becomes a luxurious indulgence on some dark rye with freshly cracked black pepper and a bit of butter slathered underneath.
Whole foods, prepared with care, can satisfy both the soul and the body. I hope these beet recipes strike that balance, because it is balance that keeps us right, both in life and in flavour.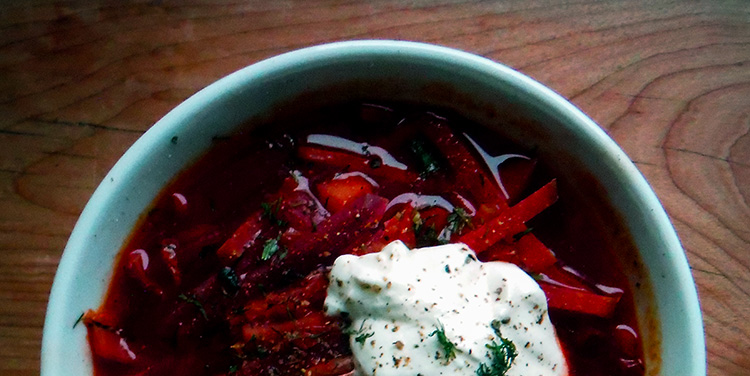 Rainbow Borscht
1 hr / Serves 6-8
4 or 5 beets, any color
2 carrots
1/4 cabbage, regular green, Napa, or Savoy
2 small onions
2 medium potatoes
1 tbsp butter
3 tbsp ketchup4 cups beef stock (or vegetable stock for a lighter version)
1 tsp black pepper
2 tbsp chopped dill, fresh or dried
4 tbsp lemon juice (or apple cider vinegar)
Salt to taste
Sour cream to serve (optional)
Wash and cut the tops off the beets and cut into matchsticks. If you are pressed for time you can also grate or dice them, but I find the matchstick gives a beautiful texture.Grate the carrots and finely chop the onions. Put in a bowl together and set aside. Dice the potatoes small, and finely slice the cabbage into ribbons.
Heat a large pot on medium heat with the butter and add the carrots, onions, and ketchup. Gently sauté until the veggies soften. Add a tsp of freshly cracked black pepper and stir. Add a 1/2 tsp of salt to season.
Add the potatoes, beets and cabbage and stir to mix it all together. Cook on medium, stirring frequently, for about 2-3 minutes, then top up with beef stock.
Bring to a boil and then turn the heat down to simmer for about 30 minutes.
Once finished, check for seasoning, and add the lemon juice and chopped dill. Serve up with a dollop of sour cream and dive in!
Recipe created by Paige Matthie
Beet Cured Salmon
2 days, keeps for 3 days once cured
1lb piece of salmon, very fresh, skin off for easier slicing at the end
1 beet
1 measure gin
1 tsp whole black peppercorns
2 tbsp coarse sea salt or pickling salt
2 tsp white sugar
To serve: thinly sliced rye bread, seeded crackers, or crisp bread, perhaps with sliced cucumbers, a dill herbed cream cheese.
Wash the beet and give it a good brush to remove any bits of soil. Trim off the stems and grate the beet into a mixing bowl. Add the gin, peppercorns, salt and sugar and mix together.
Remove the skin from the salmon, and place the fish in a glass roasting dish. Taking the skin off before curing makes slicing easier, but if you're sure with your knife skills you can leave the skin on.
Spread the beet mixture all over the salmon flesh and cover with cling film so that the wrap coats the sides and top of the salmon as opposed to being pulled tautly across the dish.
Put a smaller dish on top of the covered salmon, and pop something inside to weigh it down. Any old tin or jar will do.
Leave to cure in the fridge for 2 days. When ready, take off the weights and drain off the liquid that has pooled in the bottom dish. Rinse off the beet mixture and marvel at your beautifully stained, cured salmon.
Slice the salmon thinly, about 3mm, going against the grain. Try to slice it with your knife held diagonally, blade end tipped away from you.
Recipe created by Paige Matthie