There's a wide range of Gouda cheese to choose from at Glasgow Glen Farm. Traditional cumin, smoky flavours, herb and garlic, Bluda (gouda with a hint of blue cheese) or spicy heat are some of choices all wrapped up and ready to go.
If you'd prefer a vegan option, then Fauxmage from Fresh Start Fauxmage is the choice for you. From a spreadable Baked Feta, Creamy Herb, to a dessert option in the delicious Dark Chocolate Cheezecake, there are plenty of options. Don't forget your board for all this delicious food! This board from Alexander Reuss at Little Meadows doubles as a beautiful serving tray.
Naturally you won't find local olives here but you can check out a local market to buy imported ones like these spicy specimens from Riverview Country Market.
What's a picnic without fresh, crunchy vegetables? Cherry tomatoes, cucumber, red pepper are readily available from Schurman Family Farm/Atlantic Grown Organics and make perfect crudités.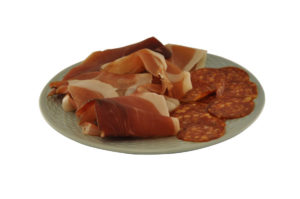 Pop into Kent Street Market for a great selection of cured meats, from spicy salami to salty prosciutto.
The PEI strawberry season was a bit late due to frost but that means you might still find a few local options like these from Balderson's (courtesy of Kent Street Market).
What's a picnic without ice cold beverages? Iced tea made with Lady Baker's Tea will hit the spot, especially this PEI strawberry-infused green tea.
Ice tea not your cuppa? East Coast Craft Sodas has 4 great flavours to choose from if a little prohibition-friendly bubbly is more your style. (Although we hear the Hop Tonic mixes really well with Myriad Distillery's Strait Gin…)
The city of Charlottetown encourages picnickers to think reusable, like this handy bamboo utensil set. Keep an eye out and you may just find your own set at a city giveaway this summer.
The Prince Edward Island Sea Salt Company salt is the perfect complement to your fresh vegetables, and their Eureka Black Garlic Infusion salt adds just the right hint of salty flavour.
Mary's Cornwall Bakery offers a variety of fresh breads and rolls for your picnic, and bakes a selection of completely gluten-free products as well.
A picnic isn't complete without something sweet to end the meal. PEI Rum Cake from J.J. Stewart's Authentic Foods are made from scratch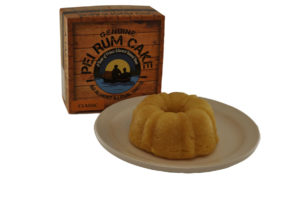 and baked with the finest ingredients including PEI rum. A few strawberries on top can add a bit of extra zing!
A very big thank you to our August sponsors. We couldn't do this without you!
Fresh Start Fauxmage, Glasgow Glen Farm, Schurman Family Farm, City of Charlottetown, Lady Baker's Tea, East Coast Craft Soda, The Prince Edward Island sea salt company, J.J. Stewart's Authentic Foods