It's a cliché to say that this year has been a challenge for many. But 2020 has been tough, especially for Island small businesses. Why not make a point to truly support local this year? Here's some of our suggestions for great gifts. You still have time!
Beverages
Our Island continues to produce award-winning beverages, and it's easy to create a gift pack of Island-made beer, spirits, and cider. As restrictions came into place this year, online shops and home deliveries popped up as alternatives to stopping into taprooms. If you are looking to gift some drinks this year you can start with these suggestions:
Moth Lane Brewing–You may have to travel to Moth Lane for your shopping (or catch them at the Summerside and Charlottetown Farmers' Markets), but it will be worth it to get a bottle of Let's Be Frank. This limited edition bottle is a Belgian Tripel Ale, aged for nine months in whisky barrels from Glenora Distillery. And from each bottle sold, $10 is donated to Habitat for Humanity.
Red Island Cider–Offering home delivery (and shipping across Canada), you can send a gift-wrapped Christmas box to one you love. It includes a dozen of Red Island's flagship ciders, glasses, and a bottle opener. Gift-giving made simple!
Lone Oak Brewing–Borden-Carleton's brewery also offers Island-wide delivery. Their online shop offers a gift pack that includes a reusable beer carrier, glasses, and of course, beer!
Riverdale Orchard & Cider–This is the place to shop if you want to add some tasty treats with your beverages. From apple pies to Scottish oatcakes, you can add baked goods to your cider order. Just note that you will need to pick up any treats at their shop in Riverdale or the Farmers' Market in Charlottetown. Hey, it's a great excuse for a road trip!
Deep Roots Distillery–When hand sanitizer became scarce Deep Roots transitioned into making this now-essential accessory for your purse or car. Each of the holiday gift packs of their spirits also includes a sanitizer spray and refill, making it the perfect 2020 gift!
Bogside Brewing–Try their award-winning Pitcher in the Rye, or Wheat Kings County. They also just bottled a special barrel-aged Porter. Why not grab a bottle before they're gone?
Be sure to check out the options at Copper Bottom Brewing, Upstreet, Myraid Distillery, Island Honey Wine, Barnone Brewery, Evermore Brewing, or the Island's oldest craft brewer, Gahan, for more spirited selections. If a simple growler fill is on your radar, try PEI's newest nanobrewery Village Green in Cornwall.
Maybe cold drinks aren't the favourite for someone on your list. There's plenty of local choices for hot drinks. You can pick up a pound or two of coffee beans at Receiver Coffee Co. or High Tide Coffee Co. If you are at the Charlottetown Farmers' Market for your weekly shopping, stop by Caledonia House and see Brett for his suggestions. Pair with a French Press or a beautiful pottery mug (try Rise Pottery, Village Pottery, or Island Stoneware), and you're as good as gold.
If a cup of tea is their go-to drink, you can order online at Lady Baker's Tea or Samuel's Coffee House for their Sip-T line of specialty teas.
Tasty Treats
Although we may not be entertaining as much this holiday season, that's no reason not to treat yourself. Why not create your own charcuterie board with a handcrafted wooden board from Whimsea Woodworking or All A Board? Top it with great meats from Founders' Delicatessen, Butcher and Butcher, or Salume Rume; add in cheese from Glasgow Glen Farm, Cow's Creamery, or ADL. Looking for vegetarian and vegan options, try Fresh Start Fauxmage, Stir It Up! PEI, and Holy Fox. If making your spread is a little too time-consuming, then give Cured Creations a call. They'll happily design the perfect charcuterie box for you.
No nibble tray is complete without great condiments! Atlantic Mustard Mill has a vast selection of mustards, or you can spice things up with a bottle of hot sauce from Maritime Madness. Other options include Spice Girls Preserve Co, or Fortune Bridge Brinery. Looking for a sweet hit, try a classic preserve from PEI Preserve Company, J.J. Stewart, or Sunshine Farm. A little honey is always an excellent addition, so try locally produced honey from Canoe Cove Honey, Forty Six North, or Island Gold Honey.
Kitchen Must-Haves
When you are picking up your honey, grab some beewax so you can make a few reusable wraps to gift. We have a simple DIY for you, and your kitchen will smell divine as you work on these.
If you just don't have time for a DIY project, why not pop by The Cook's Edge or Kitchens Unlimited to see what they have in stock for kitchen accessories. And if your budget is a little higher, a gift of Meyer's cookware is also a way to support an Island-based company.
Sweet Treats
If you want to support local chocolatiers, you can buy from Fritz Chocolates, Hey Splendid, Island Chocolates, Choc Full of Good, Nuturing Essence, or Anne of Green Gable Chocolates.
No time to bake but still want to drop off a care package? Try True Loaf, Doughnuts by Design, Angelika's German Pastry, Countryview Bakehouse, Vinegar Hill Bakery, The Willow Bakery and Cafe, or Sweet Ems Bake Shoppe.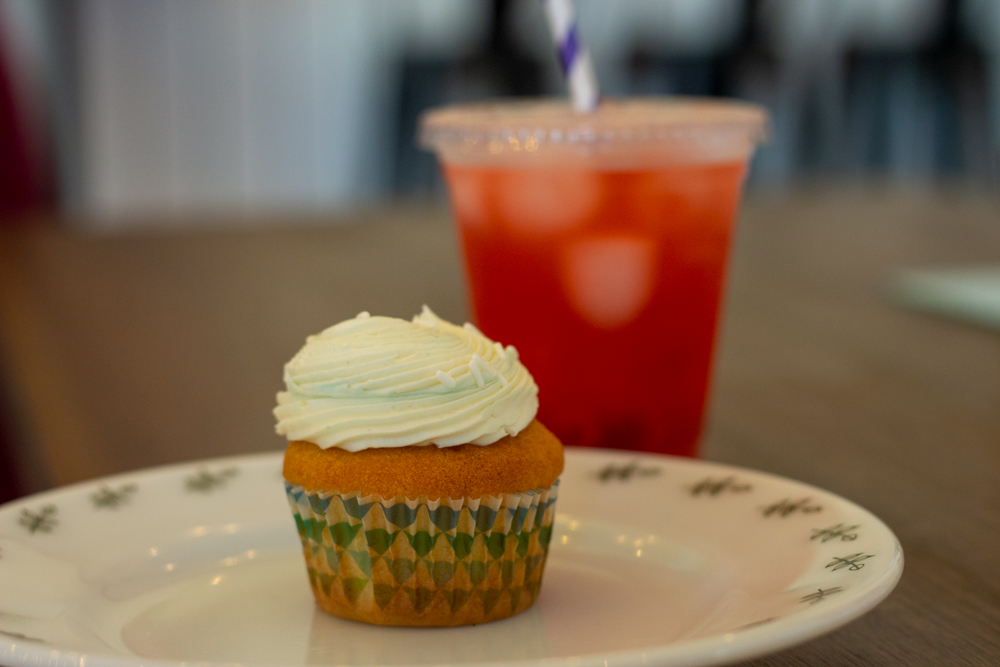 Practical Produce
Sometimes a practical gift is in order. Help fill someone's fridge with fresh organic produce with a weekly or bi-weekly vegetable box from Schurman Family Farm (pickups available in Summerside, Kensington, and Charlottetown). Or pick up a gift certificate to the online Charlottetown Farmers' Market for multiple choices of vendors.
Gift Certificates
It may not seem very original, but sometimes the best gift you can give someone is not a gift right now but a future one. Easy to slip into an envelope, a gift card allows the recipient to enjoy the food or services when they are at ease. If you ask your favourite restaurant or store, they're more than likely to have an option for gift certificates or cards. Heck, the PEI government even jumped on board the gift card train and if you can still get your hands on one, Canada's Food Island cards are a great choice.
Spectacular Seafood
PEI is renowned for its superb seafood and if you hurry, you still can get some to family and friends off-Island. Local oysters from Raspberry Point Oysters, Cascumpec Bay Oyster Co, or Valley Pearl Oysters are all shippable and might make your family who can't make it home this holiday feel a little better. Add in a Banjo Oyster shucking knife to finish off the gift. If lobster or mussels are more their jam, try shipping from MR Seafoods, Captain Cooke's Seafood, or Royal Star Foods.
Whatever your choice, all our Island businesses will appreciate your dollars. And truth be told, it may just be the boost they need to stay afloat as we head into 2021. Happy Holidays!