Charlottetown's Urban Beehive Project marks first milestone.
If you have a vivid imagination, you might initially mistake the two unique structures at the far edge of the Legacy Garden for alien pods.
Upon closer inspection, you'll see the hexagon-inspired structures are of this world and offer an essential function in food production as dwellings for nature's most revered pollinators, bees. They are the first milestone in The Urban Beehive Project, a three-year initiative and brainchild of Charlottetown-based architects, Shallyn Murray and Silva Stojak. The project launched January 2016.
Shallyn and Silva had been searching for a community project to apply their design skills, while also contributing to the quality of life in their city. "One of Silva's daughters is extremely passionate about bees and that prompted the idea to design urban beehives," Shallyn said. "It seemed like the perfect fit for us and the Island."
Fast forward to September and the duo found themselves hosting a Bee & Beer Garden Party. Guests celebrated the installation of the hives, whilst sipping complimentary beer from Upstreet Craft Brewing and noshing on appetizers adorned with bee designs. One of the project's volunteer beekeepers, John Burhoe, demonstrated how the beehives work as guests peered through the plexi-glass viewing windows.
There was much to celebrate that evening, though it marked just one point on a journey that began with Shallyn and Silva and has grown to include an entire community of supporters.
The adage "it takes a village to raise a child" can equally apply to building beehives, as Shallyn and Silva discovered early on. After developing the beehive project and designing sketches, the two reached out to carpenter Brodye Chappell, who they'd been following on Instagram. They didn't know Brodye, but enjoyed his unique work and asked to meet. "He loved the idea and immediately jumped on board," Shallyn said. "At that point we were ready to move to construction, but had no funding to do so. This was a new experience for us – finding money."
They were able to secure funding from multiple sources, including the Inspired City's micro-grant program, the private sector (Honibe, Wyman's, and TD Bank being main supporters), the architecture and design community, as well as family and friends. In total, they raised $22,000 along with donations of time, expertise, land, and other non-monetary contributions.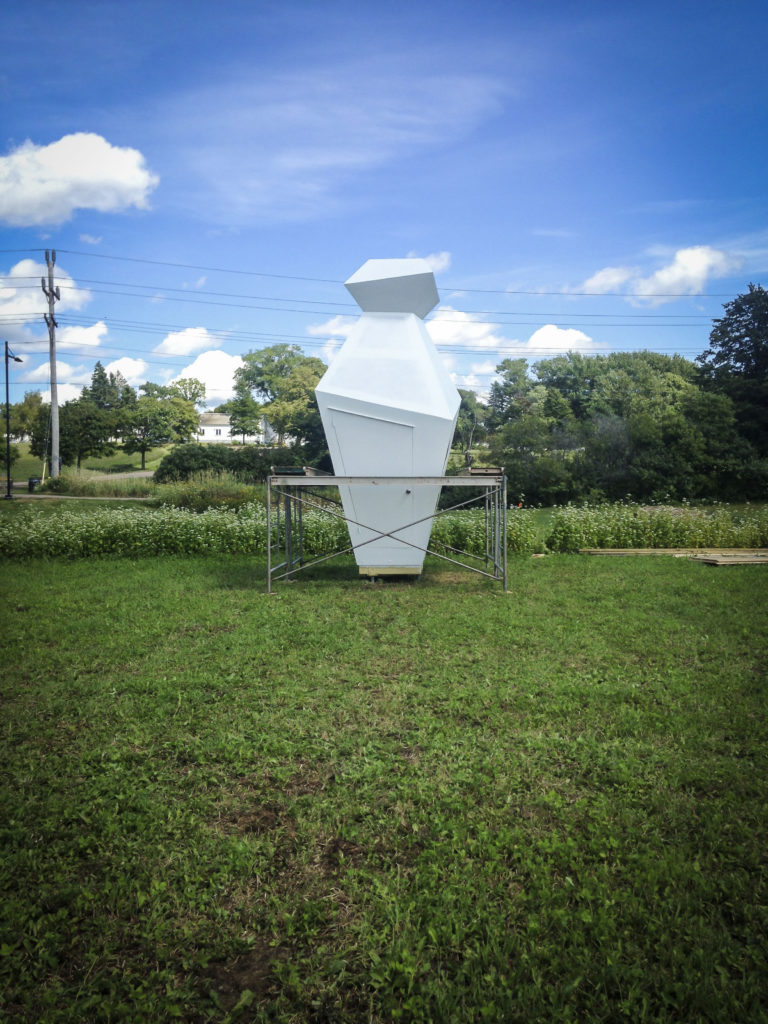 The Project's focus has always been on education and awareness.
"We knew if we just used standard three-foot tall bee boxes, nobody would pay any attention, so we decided to make them giant sculptural structures that would attract the humans, not just the bees," Shallyn said. "We wanted the sculptures to have personalities and reflect the nature of a bee."
To ensure their beehives would attract bees, Shallyn and Silva reached out to the PEI Beekeeper's Association to help them understand what type of structures the bees would like. The association is also essential to the maintenance of the hives.
Locating the bees at the Legacy Garden was also key to the project's success. "We wanted to be close to the downtown core so that people could walk to the hives," Shallyn said. "The Legacy Garden seemed perfect … there are already so many agricultural activities and events happening and so many beautiful plants for bees to pollinate.
"The hives draw people in; they really have become a destination. The demonstrations are key though – hearing John [Burhoe] talk about the bees is so inspirational and educational it's hard not to fall in love with them after hearing him speak."
With the beehives installed, Shallyn and Silva are turning their attention to the next phase of the project. In 2017 they will develop interpretive signs and educational structures and are exploring ways they can incorporate temporary classrooms at the site for demonstrations and class visits. Their project will also be featured at IIDEX – a national architecture and design conference in Toronto.
"One of the most rewarding and unexpected things for me was seeing how public art, like the beehives sculptures, can inspire other art," Shallyn said. "We have received so much art from people – paintings, graphic prints, jewelry, crafts – all inspired by this project. It was so amazing … and it was those little things that ensured us we were on the right track."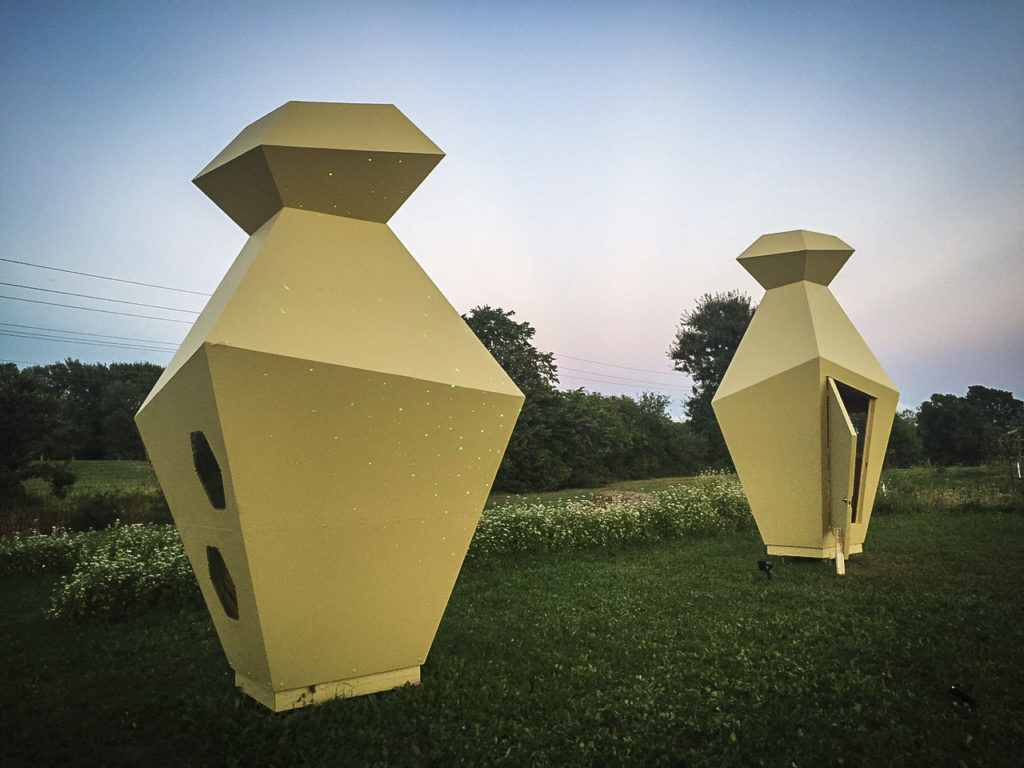 How you can get involved with The Urban Beehive Project
Donate to this three-year community project
Arrange a demonstration for your group/class by contacting the Farm Centre
Volunteer to help with Phase II of the project
Plant bee-friendly pollinators around your house
Shannon Courtney