As the calendar flips over to the final month of 2018, Salty felt it was a great opportunity to review the year that was in Salty's pages, from festivals, farms, food producers through to falcons.
January is such a cold month, so we spiced things up with a feature story about the influx of new restaurants and stores offering Indian food to Islanders. That month's issue also had our debut WTF column, and What's That Food? has been gracing our pages ever since. Celeriac, taro, durian, banana flower, cucamelon, carob molasses, Black Pearls—we've brought a wide range of unusual foods to your attention, and we'll continue to do so in the new year.
Throughout the year, Salty has brought you stories about the issues surrounding food on our island, whether it was about integrating organic foods into school food programs, profiling a food donation program like PEI Food Share, highlighting healthy school lunch providers like Pure Kitchen Catering, looking at the changes that are coming to our Water Act, or what may happen with cannabis edibles in the future, we strived to give our readers the information they want.
This year, we also expanded our journalistic reach, and in February, we profiled two manufacturers, H.F. Stewart, who design and create potato handling equipment, and DME Brewing, who are internationally sought after for their custom brewing equipment. Unfortunately, just after we went to press, DME Brewing announced that the company was in receivership. Salty will be following this story.
We covered meal kits, reviewing both their food and their packaging waste, took a look at the labour shortages that many agriculture producers were facing, and brought you insight into  animal advocate Temple Grandin's visit to the Atlantic Beef Processing plant in Albany.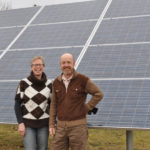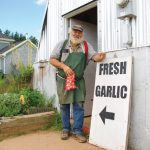 Over the course of the year, we have been proud to highlight many of the hard working people who bring food to our tables. Business profiles included bakeries like Next Level Cookie, Bishop's Rest, and Mellow Dough. Our writers gave you great stories about places like Harmony Farms, who raise lambs holistically and humanely; the students behind Epekwitk Gardens and their creation of a successful community project; Lucky Bee Homestead, who are using solar power in their business; A-OK Gardens, an immigrant success story; the organic greenhouses of Schurman's Family Farm, Fatta a Mano's wood-fired pizzas, and Eureka Garlic.
This year Salty created useful tools for our readers, like our community garden listing and the organics buying guide. The Edible Garden column became a monthly feature full of helpful tips and hints about growing your own food. We were excited in April to have the Burger Love™ guide in our pages, and we distributed thousands of copies of Salty across the Island in just one day to get that guide into your hands.
We brought you 'feel-good' stories—the successful fundraisers
that Sadat's Cuisine ran in order to bring their refugee family to PEI; the establishment of Ross' Place, a community garden in Kensington; the entrepreneurial spirit of the Campbell siblings who raise their own chickens; a look at how falcons and hawks are used in pest control at Island Falconry Services; and the successful growth of Glasgow Glen Farm after a setback last year.
Each month, you could open Salty's pages and find a delicious recipe (or two or three). From learning how to create a lobster bisque, braising beef short ribs, making vegan dishes with seaweed, delectable aiolis and vinaigrettes, wonderful halibut stuffed with scallop mousseline, assembling the ultimate picnic basket, roasting a goose, making soups and burgers, to many others, we hope you enjoyed trying them all in your own kitchen. We paired those recipes with cooking videos, and you can find them on Salty's YouTube channel, Salty Island.
What would PEI be without our food festivals and events?
Salty was there for the Food and Farm Care PEI inaugural workshop, Herb Day, The Culinary Federation of Canada's annual conference, Best of Sea, Fall Flavours, the PEI International Shellfish Festival, Farm Day in the City, Forage, and the ACORN regional conference among other events in PEI.
The weather was a news maker this year: our spring was late in coming and frosts in June caused crop damage across the Island, especially to berry fields and fruit trees. July was a record-breaking dry month, and August remained hot and dry as well. By September, farmers were concerned about crop yields and in October, heavy rain played havoc on harvesting, with farmers working around the clock between rainfalls. November's early wintry blast of snowfall after snowfall saw many farmers having to leave acres of unharvested produce in the frozen ground. The freezing temperatures in late October and November also caught oyster farmers off guard and meant a difficult few weeks getting their oyster cages sunk for the winter.
As we come to the end of 2018, we are thankful for each and every person who picks up a Salty or finds our stories online. Don't forget that you can catch up on any story you may have missed this year on our website. We anticipate a fantastic 2019 and look forward to continuing to bring you wonderful content and information you can use.